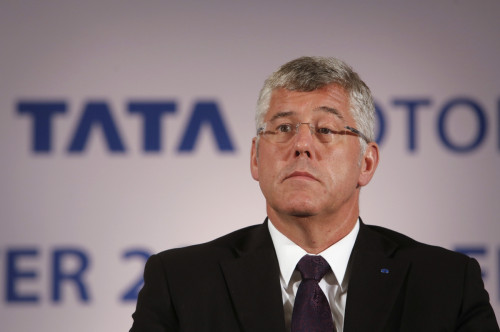 Karl Slym, a British national and the managing director of Tata Motors, is believed to have committed suicide during his stay at a hotel in the Thai capital Bangkok.
The 51-year-old was staying in a room on the 22nd floor of the Shangri-La hotel with his wife and the police recovered his body from the fourth storey of the building.
Thai authorities who are investigating the death have already ruled out murder.
"We can rule out murder in this case. We are still investigating his death," said Police Lieutenant Somyot Boonyakeow.
It is believed that the investigators have found a three-page note which is being translated to Thai from English.
The post-mortem of Slym's body is to take place shortly.
"We didn't find any sign of struggle. We found a window open. The window was very small so it was not possible that he would have slipped. He would have had to climb through the window to fall out because he was a big man. From my initial investigation we believe he jumped," Boonyakeow told Reuters.
Tata Motors have refused to comment on the cause of the death. Slym was in Thailand to attend a board meeting of the company. He joined the India-based Tata Motors in 2012 after a 17-year-long career at General Motors.
Tata Motors Chairman Cyrus Mistry said: "I am deeply saddened to inform you about the untimely and tragic demise of our company's managing director, Karl Slym. Karl was visiting Bangkok for a meeting of the board of directors of Tata Motors Thailand, and passed away earlier today [26 January]."
"Karl Slym joined us in October 2012, and was a valued colleague who was providing strong leadership at a challenging time for the Indian auto industry. In this hour of grief, our thoughts are with Karl's wife and family."