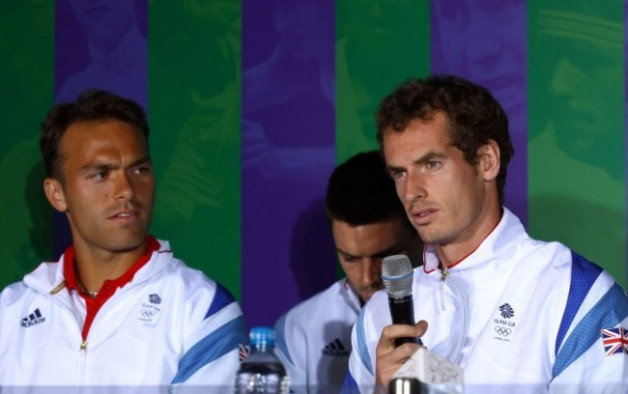 Claiming his second consecutive Brisbane International title on Sunday 6 January, Andy Murray dedicated his hard-fought 7-6 (7-0), 6-4 win over Bulgaria's Grigor Dimitrov to his long-time friend and former doubles partner Ross Hutchins.
World number three and top seed Murray, 25, gave an emotional acceptance speech dedicated to his fellow Briton Hutchins, 27, although at the time he was reluctant to name him. Hutchins later divulged via his Twitter account that he is suffering from Hodgkins Lymphoma.
"I'd like to dedicate this victory to one of my best friends," Murray said. "Thank you very much. He's back home watching and, you're going to get through."
The pair have previously seen Davis Cup action together, and Murray battled tears as he started the new year with a win. Doubles specialist Hutchins is ranked 28th in the world in the discipline, with partner Colin Fleming.
"Happy New Year to all!" Hutchins later Tweeted via @RoscoHutchins. "Unfortunately I will be away from tennis for a while as I was recently diagnosed with Hodgkins Lymphoma. I am doing well, very positive with excellent medical support, friends and family around me. Looking forward to being back on the court soon!"
Among those offering support on Hutchins' feed were fellow tennis professional Oliver Golding (@oli_golding), who wrote: "@RoscoHutchins really sorry to hear that! Get well soon mate, everyone is behind u!"
A statement on the Lawn Tennis Association's website from its CEO Roger Draper read:
"Everyone in British Tennis is behind Ross. He is a true ambassador for the sport both on and off the court, and I have no doubt he will overcome this setback. It's important that we give Ross and his family the privacy they need during this challenging time."
In Sunday's final, Murray was given a real test by newcomer Dimitrov, 21, world number 148 but considered to have huge potential. The Scot eventually prevailed in straight sets after a 90-minute battle.