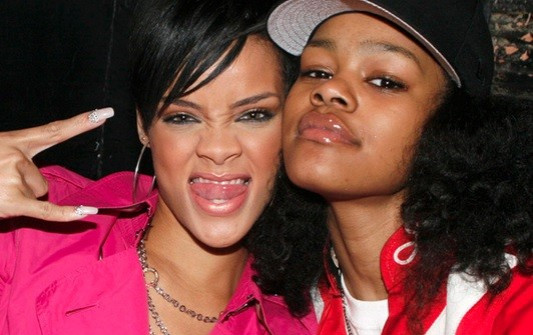 Singer Teyana Taylor has slammed Rihanna as a 'cyber bully' whose malicious actions are overlooked by her fans.
The G.O.O.D. Music artist shared her low opinion of the Diamonds' singer in the wake of their public feud, which recently played out on Twitter.
It all kicked off when Rihanna posted an Instagram video showing her hair stylist Yusef appearing to mock Taylor. He could be seen wearing a curly wig and snapback hat similar to the style Taylor is known for, while performing a rendition of Anita Baker's Caught Up In The Rapture.
After 22-year-old Taylor caught wind of the video, an expletive-filled war of words erupted between the pair online.
During their spat, Rihanna changed her Twitter header to an image comparing the two singers' net worth. RiRi's was placed at $90 million while Taylor's was only $9 million.
Taylor followed suit by changing her header to a picture of two boxers fighting. One had her face superimposed unto it while the other was the infamous picture of Rihanna's beaten face from her 2009 Chris Brown domestic violence incident.
Although the duo appear to have since called a truce, Taylor phoned into HOT 97 radio station to discuss the heated exchange.
"You got a dude singing "Caught Up In The Rapture of Love" with big hair, a snap-back, and some Jordans on. And I just sung that a week ago. It ain't no coinkidink," Taylor said.
"She knew what she was doing."
Taylor went on to claim that although she was fan of her former friend's music, she took issue with her attitude.
"I know her very well and I made that very clear in my tweet," she said. "I just think that her fans are loud and condone her behavior, and she does this to everybody, and it's not always fun and games all the time.
"You do it, you get away with it, you tried me. You clapped and I clapped back. You didn't think it would go as far as it did, but you can't do that to everybody.
"Yes I do think she's cyber bully. I think she has dope music, I'm not no hater, dope music is dope music and she's a pretty girl. But that don't mean that you can just bully anybody. It don't work like that."