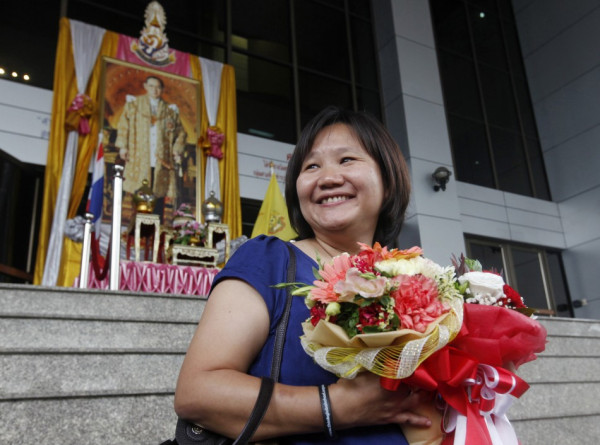 A Thai webmaster has received a suspended eight-month prison sentence for not removing online comments that insulted the Thai royal family in what is regarded as a landmark case for internet freedom in the country.
Chiranuch Premchaiporn was prosecuted under Thailand's controversial Computer Crime Act, which came into force in 2007 under an unelected government that took power after a military coup.
Thailand frequently jails people convicted of lèse-majesté, as royal insults are known.
But Premchaiporn's case raised international concern over the legal status of the internet in Thailand and the liability of a website operator for comments posted by a third party.
"Today's guilty verdict for Chiranuch Premchaiporn, for something somebody else wrote on her website, is a serious threat to the future of the internet in Thailand," Taj Meadows, Asia Pacific spokesman for internet services giant Google, said by email.
"Telephone companies are not penalised for things people say on the phone and responsible website owners should not be punished for comments users post on their sites - but Thailand's Computer Crime Act is being used to do just that."
Judge Kampol Rungrat ruled that Premchaiporn was liable for one of the 10 comments posted on her site Prachatai, a popular forum for political and cultural discussions.
Even if the webmaster was not directly responsible for the content of the comments, under the law it was, nonetheless, her "duty and responsibility" to remove them.
Premchaiporn "did not perform her duty in a timely manner" and "allowed the inappropriate posting to be on the website for too long", the judge said.
The insulting post was left on the website for 20 days.
Human rights group have warned internet companies that it will be easier to censor freedom of speech after the verdict, even though Premchaiporn said it was "logical and reasonable".
"International media corporations need to sit up and take notice. Even 'liking' something on Facebook could have legal implications," said Benjamin Zawacki, a Thai researcher for Amnesty International.
The Prachatai case has exposed many ambiguities in the Computer Crime Law. According to the Committee to Protect Journalists, an independent nonprofit organisation based in New York City, the law is unclear "whether intermediaries like Prachatai are liable for their commentators when they are unaware of the content, what exactly constitutes lѐse majesté within comments and how long websites can keep such content online before triggering liability".
Since the law was enacted, the government has issued no guidelines or regulations on complying with it. Defence witnesses, such as Wanchat Padungrat, the founder of the country's most popular online forum, Pantip, argued that it is impossible to monitor all the country's online users despite blocks on some monarchy-related keywords already being in place.
Human Rights Watch said in a statement that Premchaiporn's conviction had "added to a climate of fear and self-censorship in Thailand's media" and marked a "new low in Thailand's intolerance of free speech".