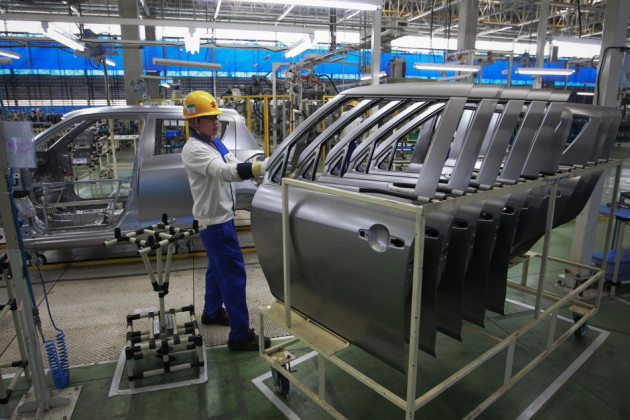 Thailand's economic growth slowed in the third quarter as the global financial slump impacted the nation's exports and production.
According to the National Economic and Social Development Board (NESDB), the country's Gross Domestic Product (GDP) rose 3 percent year-on-year from a revised 4.4 percent in the second quarter. This was in line with figures forecast by a Bloomberg News survey.
Exports have dropped 3 percent in the quarter from the previous year as overseas demand fell. Manufacturing slumped 10.2 percent year-on-year.
The Bank of Thailand had unexpectedly cut its benchmark interest rates in October in a bid to guard the nation against the impact of the slowing global economy. The government had also increased fuel subsidies and initiated wage hikes after the 2011 floods.
Domestic consumption, boosted by recovery efforts from the floods, and tourism are expected to have aided the Thai economy in the first half of the year. But growth is waning as the rebuilding works are almost complete.
"Thailand's Q3 GDP figures show that the economy's post-flood recovery has succumbed to weak global demand," said analysts at Capital Economics.
"We expect the global economy to continue to struggle, which in turn should prompt the Bank of Thailand (BoT) to loosen its policy settings again by mid-2013."
The NESDB added that it expects the economy to expand 5.5 percent in 2012. Earlier it had estimated a growth of 5.5-6.0 percent. The floods had restricted the country's economy to 0.1 percent expansion in 2011.
The Organisation for Economic Cooperation and Development (OECD) had said that Southeast Asian economies will strengthen in the next five years as domestic demand offsets the slump in global demand, reported Bloomberg. In the previous week. Asian Development Bank (ADB) President Haruhiko Kuroda had also said that most Asian economies are likely to pick up in 2013.
The Thai baht gained 0.1 percent against the US dollar at 03:15 GMT, while the Stock Exchange of Thailand Index traded 0.2 percent higher.