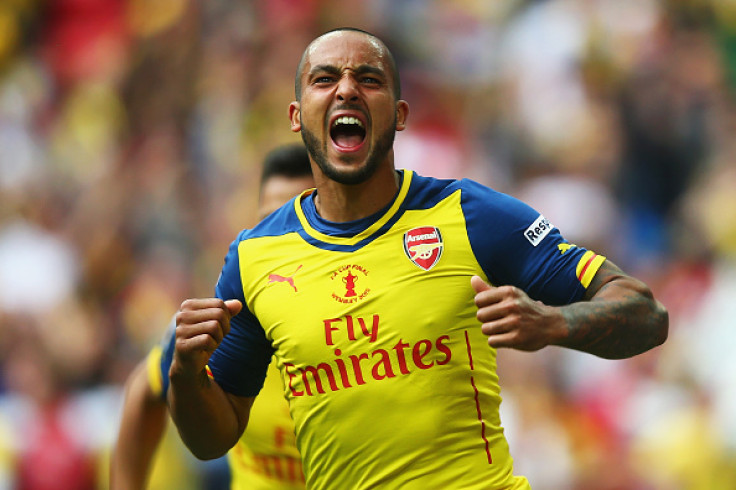 Theo Walcott believes that Arsenal face a real test of character in the coming days, when they travel to Croatia to face Dinamo Zagreb in the Champions League before going to Chelsea, Tottenham and Leicester City within two weeks of each other. Failure to cope with the pressure can see them fall further behind Manchester City in the pecking order, who have started the season on song, winning their first five games, without conceding a single goal thus far.
The Gunners are unbeaten in their last four games after losing their season opener against West Ham United at the Emirates while drawing against Liverpool in a goalless encounter in north London. The Gunners also host Manchester United at the Emirates following their trip to Leicester, making up for a busy two-week schedule which can potentially make or break their season.
Walcott, who scored his first goal this season in a 2-0 win over Stoke City, which was incidentally their first win at the Emirates this season, believes that the period will give much insight on whether Arsenal are ready to battle for the title or a place in the Champions League. The striker is, however, pleased with Arsenal being back in the top four and has issued a warning to their competitors stating that there is still a lot to come from the north London club.
"We've got a tough four away games now but this is going to test the squad to its full ability, I'm sure," the England forward told Arsenal's official website. "It's always great to start the Champions League - it's when everyone starts to get even fitter and sharper.
"We're competing in the Premier League, the best league, and in the Champions League against the best players in the world. We're going to improve and we need to have a good solid start. Away from home, it's always difficult to play your first game but I think it will do us a favour to be honest. Everyone just needs to recover well.
"It's important to see Arsenal in the top four [in the Premier League]. When people say we're not playing great, we're starting to get to where we want to be. That's the sign of a good team, if you're steady going but you're getting the results," he added.