Theo Walcott expects Arsenal to start firing at their best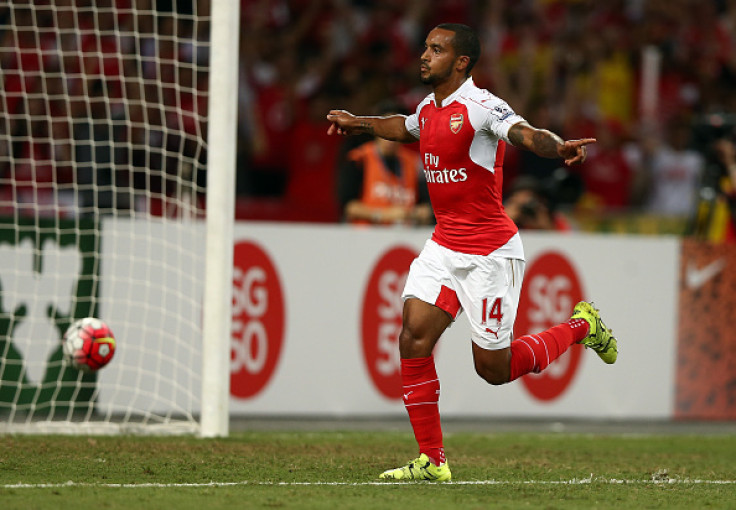 Theo Walcott believes that Arsenal are finally getting back to their best and there will be more to come from the Gunners as the season progresses. The north London club notched up their third win of the season and their first at the Emirates with goals from Olivier Giroud and Walcott in a 2-0 win over Stoke City.
The Gunners started the season in pedestrian fashion, losing 2-0 to West Ham at home and drawing 0-0 to Liverpool but have gone better as the season progressed. Wins over Crystal Palace, Newcastle and Stoke mean they are still five points adrift of City, who have won all their games thus far, without conceding a single goal in the league. Walcott revealed that the whole team is pleased with the performance which will set up a good platform for their game against Chelsea next weekend.
"In the end we had a clean sheet and that's always the most important goal. We know we're going to score goals and we know we're going to create chances as well. We create chances so we just have to put them away. We're starting to get back to the old Arsenal. We're very pleased after this game," Walcott told Arsenal's official website.
The striker was, however, disappointed by his failure to notch up more goals with the numerous chances he was presented with and insisted that he will improve in this department with a few more games under his belt. The 26-year-old scored the opener with a delightful run behind the defender, latching on the end of a beautiful pass from Mesut Ozil to give the Gunners the lead.
"It's things that people might not notice, like the tackle from Francis. He's in that position for a reason, you can see it there, and that just started off the rhythm of the movement, obviously Mesut's ball was fantastic, and it was all down to the touch. It put the defender out of the game. I was pleased with that goal. I was disappointed because I should have got many, many more, but I'm in the chances so I'm happy with that," he concluded.
© Copyright IBTimes 2023. All rights reserved.