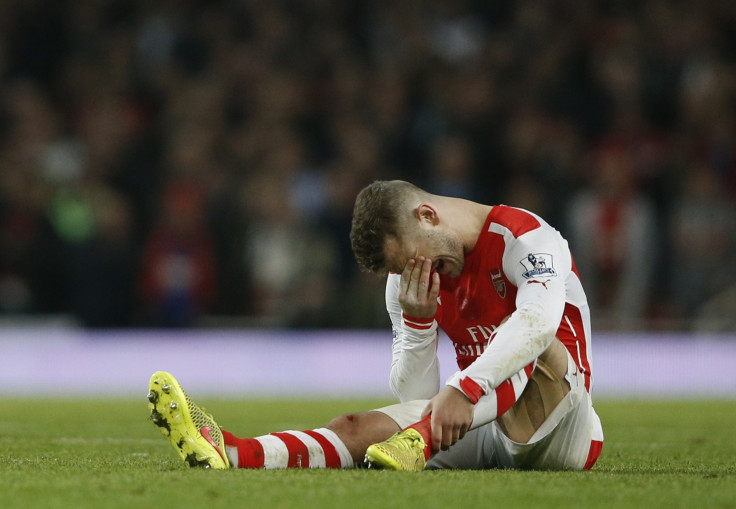 Arsenal manager Arsene Wenger is hoping that Jack Wilshere's injury prognosis will be a positive one, but has revealed that the player is showing slow progress until it is fully analysed. The midfielder has been out since the start of the Premier League season after fracturing his fibula during training.
The French manager was expecting the England international to be back in training following the international break but a setback spoiled his plans of an early return. According to the Daily Mail, it could be a lengthy layoff for the midfielder, who was hoping to have an injury-free season in order to show his true potential for club and country.
"Wilshere progresses slowly. We will know more about Jack in the next few days and hopefully it will be good news but he progresses," Wenger is quoted as saying by Arsenal's official site after the Gunners' 2-0 win over Stoke City on Saturday, 12 September.
According to the Mirror, Arsenal will give the midfielder two more weeks to try and recover from the hairline fracture before approaching a specialist, who will decide if surgery is necessary to rectify the injury. This will put Wilshere out of action for a further six weeks, keeping him out at least until Christmas.
Meanwhile, Wenger has admitted that Danny Welbeck's injury came as a shock to him, after the striker was ruled out until Christmas after undergoing knee surgery earlier in the month. The former Manchester United striker was expected to be back with the first-team after the international break, but could not recover sufficiently to step up his training.
"It was a shock of course. I think Welbeck can play in every position up front and he is a fantastic guy. To see him work for three or four months and then be ruled out again for three or four months is difficult to understand but we have to deal with that," the Frenchman added.