Three Sumatran tiger cubs have been born at London Zoo to Melati and Jae Jae, with cameras capturing their first few weeks on hidden cameras inside the cubbing den.
The sexes of the cubs is currently unknown as none of the handlers at London Zoo have yet been able to get close to the three cubs.
Five-year-old Melati gave birth on 3 February after a 106-day pregnancy, but ZSL has only now announced their birth.
The cubs' arrival comes as welcome news after Melati's first born drowned at London Zoo last November at just three weeks old. "Heartbroken" zookeepers decided to keep the latest litter a secret until the cubs got stronger as a result.
The first cub was born at 12.28am, with the second arriving half-an-hour later. The last cub was born at 1.18am. Zookeepers monitored the labour using remote camera technology.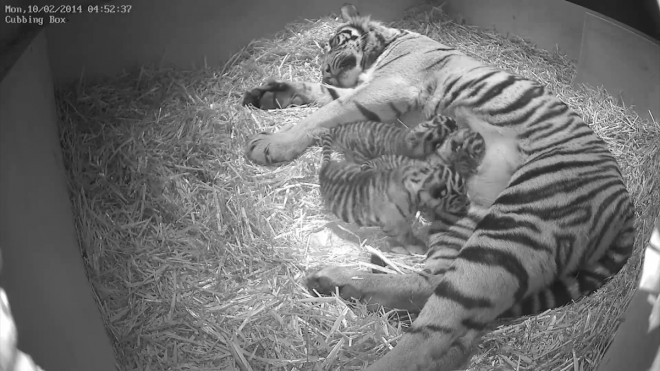 Since they were born, Melati has been tending to her cubs, tucked away in the cubbing den and only coming out occasionally for some food.
Zookeeper Teague Stubbington said: "We couldn't be more delighted with our new arrivals, and with how Melati is responding to her three cubs.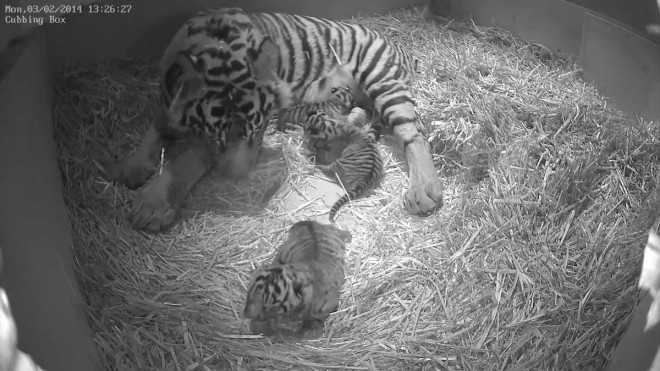 "We've been observing them 24/7, and one of us is always on duty to keep an eye on the little ones throughout the night. We've even been able to observe key milestones like their eyes opening and their tentative first steps.
"While we still don't know whether they're boys or girls, we're starting to see their personalities develop. We've nicknamed one Trouble, as it's much bolder than the others – it was the first to start exploring its den and we've spotted it waking up its siblings when they fall asleep!"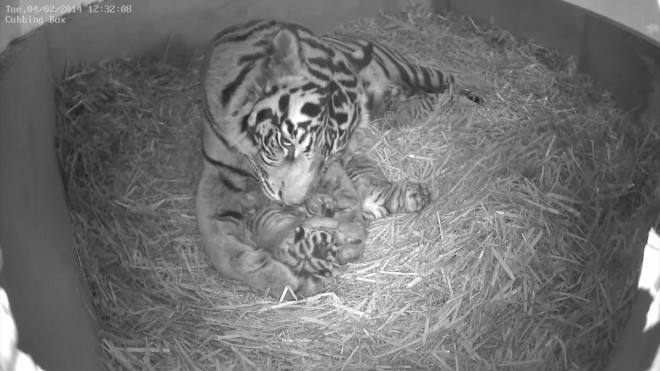 The cubs are three of the rarest tigers in the world, with just 300 Sumatran tigers estimated to be left. Their birth represents a huge achievement for both the zoo and the global breeding programme of tigers, ZSL said.
Melati and male tiger Jae Jae were introduced in Tiger Territory after it was opened by Prince Phillip in March last year.
ZSL will be uploading videos of the cubs' progress throughout March. Click here to visit their YouTube channel.