At least three people are missing after a hot air balloon burst into flames in Doswell, Virginia, USA. Police believe the balloon's gondola struck a power line.
Eye-witness Carrie Hager-Bradley told local TV station WWBT that she saw the basket in flames: "They were just screaming for anybody to help them. 'Help me, help me, sweet Jesus, help. I'm going to die. Oh my God, I'm going to die'."
The incident occurred to the northeast of Meadow Event Park, the site of the Mid-Atlantic Balloon Festival. Of the 4,000 spectators present, many did not witness the incident, but one group saw something fall from the balloon which looked like a burning basket. The balloon itself then reportedly floated on for some time. Video footage and photographs of the incident have been posted online.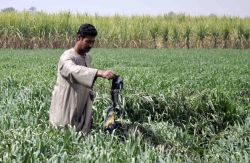 Eye-witness Debra Ferguson told local paper The Free Lance-Star of Fredericksburg that some balloons landed near her home and one of the men pointed up at the balloon in trouble.
"As soon as we looked up, the thing blew up right there," Ferguson said. "All I heard was, 'Oh my God, Oh my God,' and all you saw was the top of the balloon still flying, but all of the basket was gone. All of the flames just disappeared. ... It was like a match - poof - and then it was gone."
Rescuers – including local and state police and the Federal Aviation Administration - are conducting a ground search but have yet to locate any wreckage. An air search has not yet been mounted due to stormy weather conditions.
Corinne Geller, a spokeswoman for Virginia State Police, said the search would continue: "We will continue through the night. We've got additional resources coming in until we find the wreckage."
Since the first untethered manned balloon flight in 1783, hot air ballooning has been popular with tourists and at major events. However in recent years there have been a number of fatal hot air balloon crashes, including one at Luxor, Egypt in 2013 in which 19 people died, including two Britons.