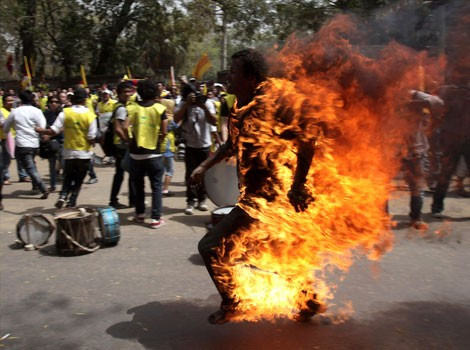 A mother of three has burned herself to death in the Chinese region of Ngaba as hundreds of Tibetans in Lhasa were arrested by Chinese security officers in the aftermath of a new wave of self-immolations against Chinese rule in Tibet.
The London-based Free Tibet group said the woman known only as Rikyo, who was in her mid-30s, set herself on fire in front of the Jonang Dzamthang monastery in the flashpoint Aba prefecture.
"Rikyo set herself on fire protesting against Chinese rule," exiled Tibetan Tsangyang Gyatso said. "She passed away at the site of her protest."
The self-immolation at one of Lhasa's major cultural spots come as Tibetans from across China flock to the Tibetan capital to mark the Buddhist month Saka Dawa commemorating the birth, enlightenment, and death of Buddha.
Two Tibetan men set themselves on fire in Lhasa on 27 May, China state news agency Xinhua reported.
Beijing has accused the exiled Tibetan spiritual leader of Tibetans, the Dalai Lama, of inciting the protests.
At least 35 Tibetans have set themselves on fire since March 2011 in protest against China's oppression of Tibet.
Radio Free Asia reported that about 600 Tibetans have been detained since the Sunday's protests in Lhasa.
Hao Peng, deputy party secretary in the Tibet Autonomous Region, has called on authorities to tighten their grip on the Internet and mobile text messaging.
"Hao Peng stressed that...the trouble caused by the activities of the Dalai clique has persisted, and the situation for stability maintenance is still complicated and grim," the official Tibet Daily newspaper reported.