UFC bantamweight champion TJ Dillashaw will defend his belt against Dominick Cruz on Sunday 17 January. The eagerly anticipated title fight is scheduled to take place at TD Garden in Boston, Massachusetts.
Where to watch
Fans in the United Kingdom can watch coverage of UFC Fight Night 81 live on BT Sport 2. Coverage begins at 1am GMT, with the main event scheduled to get under way two hours later. Those with a subscription to UFC Fight Pass can also see all the action unfold online.
Overview
Californian Dillashaw puts his title on the line for the third time since springing a huge upset with that stunning victory over Renan Barao in Las Vegas. Since then, he has knocked out late-replacement Joe Soto at UFC 177 and also secured a fourth-round TKO win over Barao when the two met again in a rematch in July 2015.
As for Cruz, the 30-year-old has been through a hellish period with injuries over the last four years and a knockout of Takeya Mizugaki in 2014 was his only fight since late 2011. A former WEC and UFC bantamweight champion himself, he successfully defended the latter title twice before being stripped after suffering a groin problem in the build-up to a proposed UFC 169 clash with Barao.
What they've said (via NESN)
TJ Dillashaw: "I've always been super respectful with the guy and pretty easy-going with each other, but once the fight got announced, he turned into someone else. He turned into a little trash-talker and a little disrespectful, you know, but he's just selling the fight. He's doing his best to be relevant. He's got three more days to do so, and after that, I'm going to retire him.
"I'm just excited to fight, man. I can't worry about being p***ed off and shutting him up and being overly aggressive with that because that's what he wants. I feel like he's insecure with his abilities, so he's trying to get under my skin so I come out of my game plan. I'm not going to do so. I'm not going to buy into that. He's not a good sh*t-talker, he's just a trash talker."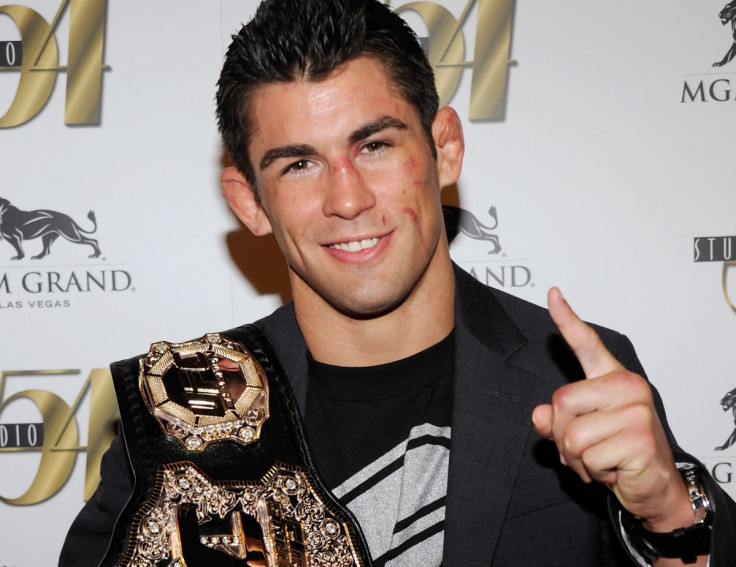 Dominick Cruz: "I've had three ACL injuries that I've had to get through, which basically, if you know anything about ACL recoveries, it strips the muscle completely off the bone. I was down to nothing, and I had to rebuild that three separate times. Plus, I tore the quad off my bone.
"All of those injuries just stacked up. At one point, I didn't know what I was going to do. I didn't know if I was going to fight again or if my body would let me. The fight against Mizugaki showed me what I had. It showed me how strong my body really is. Really, more than anything, that's what I needed to know. I needed to put trust not in my mind and in my ability, but in my body. I had to rebuild my body, and I did."
Records
Dillashaw: 14 MMA fights, 12 wins (6 via knockout)
(W) Renan Barao - technical knockout (punches) - July 2015
(W) Joe Soto - knockout - August 2014
(W) Renan Barao - technical knockout (head kick and punches) - May 2014
Cruz: 21 MMA fights, 20 wins (7 via knockout)
(W) Takeya Mizugaki - knockout - September 2014
(W) Demetrious Johnson - unanimous decision - October 2011
(W) Urijah Faber - unanimous decision - July 2011
Betting odds (William Hill)
Main card
TJ Dillashaw vs Dominick Cruz
Anthony Pettis vs Eddie Alvarez
Travis Browne vs Matt Mitrione
Ross Pearson vs Francisco Trinaldo
Prelims
Patrick Cote vs Ben Saunders
Tim Boetsch vs Ed Herman
Chris Wade vs Mehdi Baghdad
Maximo Blanco vs Luke Sanders
Early prelims
Paul Felder vs Daron Cruickshank
Ilir Latifi vs Sean O'Connell
Charles Rosa vs Augusto Mendes
Rob Font vs Joey Gomez
Francimar Barroso vs Elvis Mutapcic