Conor McGregor stands on the verge of greatness. The 27-year-old Irish mixed martial artist, nicknamed 'Notorious', has enjoyed a meteoric rise to become one of the biggest draws in combat sports since joining the Ultimate Fighting Championship (UFC) two years ago.
His last fight with Chad Mendes attracted a record 16,019 fans at the MGM Grand in Las Vegas, with live gate receipts of $7.2m (£4.76m). His next fight, against Brazilian featherweight champion Jose Aldo in Las Vegas on 12 December, is the most anticipated UFC bout of 2015. Winning that would not only give McGregor the featherweight belt but could catapult him to global superstar status.
"Every now and again you have to pinch yourself and ask if this is really happening. It's been nothing short of incredible what's happened over the last two years," says McGregor's coach, John Kavanagh tells IBTimes UK.
"He is the draw now for the UFC and [Las] Vegas in the fighting capital of the world," he adds.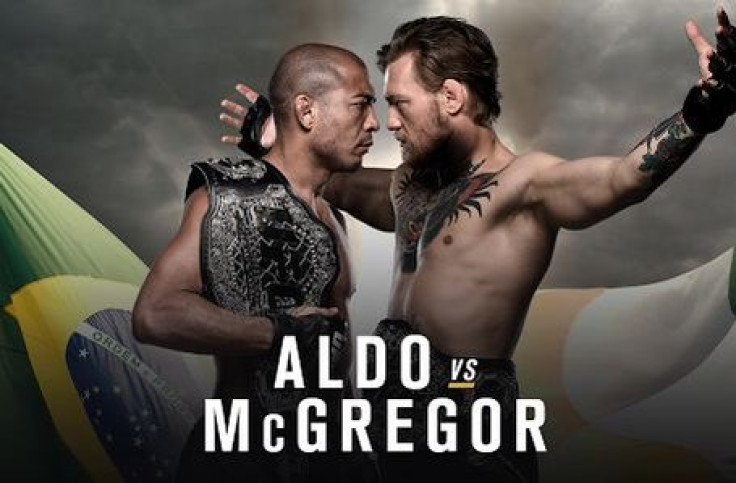 But whilst he is now both rich and famous, McGregor is focused on just one thing – continuing his undefeated UFC record (six wins, with a 14-fight winning streak in mixed martial arts) and proving he is the greatest inside fighter inside the octagon – the steel cage where the fights are held.
"After I finish that fight [against Aldo] I'll move up to lightweight and take that division over. Who knows what will happen. I like to just continue to fight. I like to stay busy, I like to be active. I do not like to be inactive," McGregor told IBTimes UK.
"He's not driven by money or fame, he's driven by content, by competition. He would fight every weekend if he was able to," adds Kavanagh.
If McGregor defeats Aldo, he's been promised a chance to fight in front of a home audience next, to a potential record breaking 80,000 audience in Croke Park, Dublin.
"I will do the Vegas cards as asked and as requested and I'll blow them out the water like I do. And then they [the UFC] will do as I ask and give me my fight on home soil," says McGregor.
Winning his next fight could cement McGregor as a global superstar. And with boxer Floyd Mayweather retiring earlier this year, there's every chance the Notorious could succeed him to become the biggest fighter in the world.
Reebok has announced a partnership with Conor McGregor's hometown gym – the Straight Blast Gym and will be supplying them with Reebok Training Kit and Equipment. Reebok's Combat Training Kit is available for sale at www.reebok.co.uk.