Its been just over a week since the dramatic dethroning of yet another member of Ultimate Fighting Championship royalty and the governing body's media department have worked the gossip columns with several ambiguous statements about the next step for its current superstar; Ireland's Conor McGregor.
Ever since "mystic Mac", as he is now affectionately referred to, eerily predicted the exact turn of events that led to his victory over Jose Aldo there has been a surge in the other members of the UFC roster realising they are in more of an entertainment business than a sport. Fighting against McGregor in the octagon is your big money meal ticket to recognition and a decent paycheck in this unforgiving sport, and doesn't he know it.
"Options" was McGregor's buzzword at the UFC 194 press conference where the Dubliner held court over the ever-salivating press assembled at the MGM Grand Hotel, Las Vegas. Above other things he told of how the process of making the weight of 145lbs, the UFC featherweight limit, is a grim experience.
Coach to McGregor, John Kavanagh, has made no secret of the difficulty and discipline shown by the 27-year-old to make the weight, particularly the day before a fight. The logical step therefore is to go up a weight category and challenge at lightweight which Dana White, UFC President, has offered as one of his many options now he is the featherweight king.
In White's head however, he had likely identified the prospect of McGregor facing Donald Cerrone in another opportunity to grow the UFC brand – such is the bombastic manner both fighters promote events. Frankie Edgar, fresh off a first-round knockout victory against Chad Mendes, would have to wait. The popularity and respect given to Edgar by MMA press and fighters would take a back seat to this potential UFC Lightweight title fight.
However, Rafael dos Anjos has a whole different storyline in mind.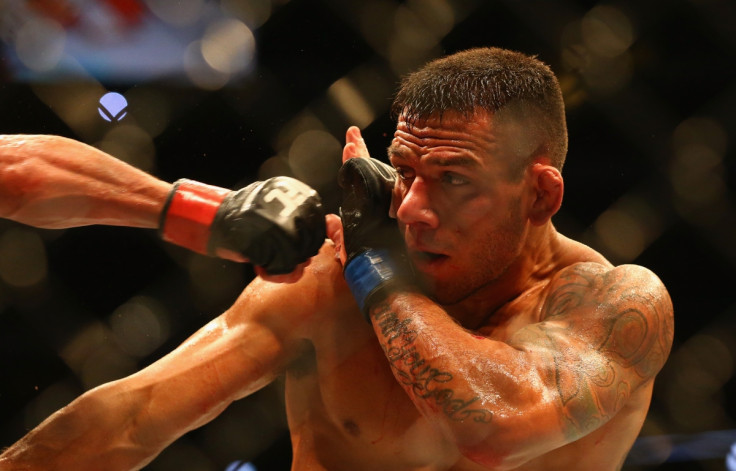 It took Dos Anjos 66 seconds to end Cerrone's bid for the title. MMA writers and the bookmakers had this as a close bout but it was nothing like that. Their previous meeting was a Dos Anjos points victory but both are better exponents of martial arts now.
Cerrone admitted in the post-fight press conference that after being hit by the first knee to the rib cage by Dos Anjos he was in trouble. "Sometimes you just don't show up to work and in our profession, that's a bad day," he admitted. Visibly emotional following the fight, the American kept his side of the press conference short but it was clear he had more than just a bad day.
This was an albeit shortened, but equaly as destructive a display as when Dos Anjos took the title from Anthony Pettis at UFC 185. Then, a display of power and control over the champion many thought would have superior technique and skill, saw him prevail over 25 minutes.
A guard piercing straight left, a knee to the midsection, a flurry of punches against the ribs and a thunderous left turning kick to the knee again left Cerrone with nowhere to go. A hurt Cerrone tried to make a protective shell with his hands and curl up in the center of the octagon whilst Dos Anjos swarmed and threw left and right hands in search of the finish. The Brazilian even had presence of mind to look to referee Herb Dean and consider how many more right hands he had to land to the temple of Cerrone before he could be sure of victory. It didn't take many. A broken Cerrone accepted his defeat quickly as Dean waved Dos Anjos away.
Conor McGregor still has his "options" but they look very different now. There seems to be two obvious moves on the table. Stay at featherweight and the Irishman could defend his featherweight title against Frankie "the Answer" Edgar – a man whose all-round MMA game would make him a dangerous opponent despite the dismissing of Jose Aldo.
Move to lightweight and Dos Anjos lies in wait. "Connor McGregor says he wants to come to my division and I think it wouldn't be a smart decision but if he wants to come, I'd be happy to welcome him," he warned. The future rests on McGregor's decision and to be his next opponent you are going to need to be more than just the number one contender. In his own words, you might have to "beg for it".