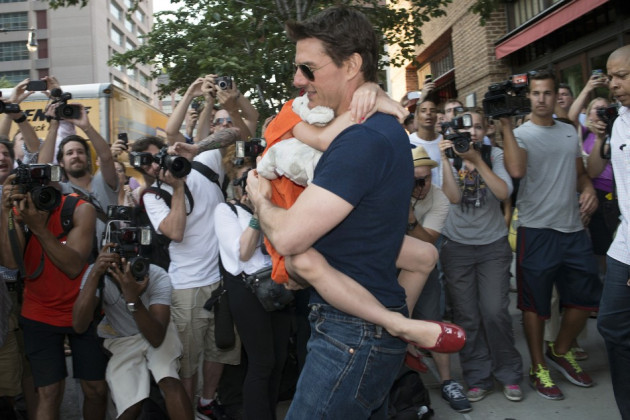 Hollywood star Tom Cruise is suing a German magazine for libel over "disgusting" claims that he was a distant father.
The 51-year-old actor has filed a defamation and invasion of privacy lawsuit against Bauer Publishing Company which alleges that he abandoned his daughter Suri after his divorce from Katie Holmes.
During a court deposition in Los Angeles, it came to light that Holmes, his ex-wife feared that Cruise was planning to send their daughter to an extreme Scientology sect that required its members to sign up for a billion years.
Cruise also reluctantly admitted that Scientology was one of the causes of the marriage break-up.
However, the Top Gun star said that the portrayal of him as a distant father was totally untrue.
A lawyer for Bauer questioned this, stating that Cruise saw Suri for only ten days between mid-June and mid-November 2012. He also missed his daughter's first day at school.
Cruise hit back by saying that he told "wonderful stories" to Suri on the telephone.
Elizabeth McNamara, Bauer's lawyer questioned the actor on why he could fly to London for 24 hours in October 2012 to attend a Scientology conference but was unable to visit Suri.
"It was an important event," Cruise said in reply. David Miscavige, head of the Church of Scientology, has praised Cruise as "the most dedicated Scientologist I know."
However, the Hollywood actor went on to admit that during the acrimonious split with Holmes: "When a divorce occurs things change... It's not an ideal scene. It's not an ideal situation."
The actor is suing the German magazine publishers for writing stories on him, saying: "'Has he chosen Scientology over Suri for good? Abandoned by Daddy.' I mean come on, that is absolutely disgusting. That is absolutely disgusting," Cruise said in a video deposition.
"Like with any relationship, there are many different levels to it ... I find it very offensive. There is no need to protect my daughter from my religion," he said.
Cruise is seeking $50m (£31m) in libel damages. Bertram Fields, the actor's lawyer said that if Cruise won, he would give all damages to charity.
Tom Cruise's bizarre behaviour on Oprah TV show