Former Chelsea striker Tony Cascarino has criticised Rafa Benitez's selection policy after captain John Terry was omitted from the starting eleven for the defeat to Manchester City.
Goals from Yaya Toure and Carlos Tevez saw City go seven points clear of the third placed Blues, with Benitez's men now looking over their shoulders at Tottenham Hotspur, who can go above their west London rivals with victory over West Ham United on Monday, and fifth place Arsenal.
Aside from Frank Lampard's penalty miss, Chelsea offered little going forward with Benitez's employing a defensive strategy, who including the dropping of Terry, was found wanting on several occasions at the Etihad Stadium
And Cascarino has bemoaned the Spaniard's defensive style, and the depth of quality in Chelsea's defence.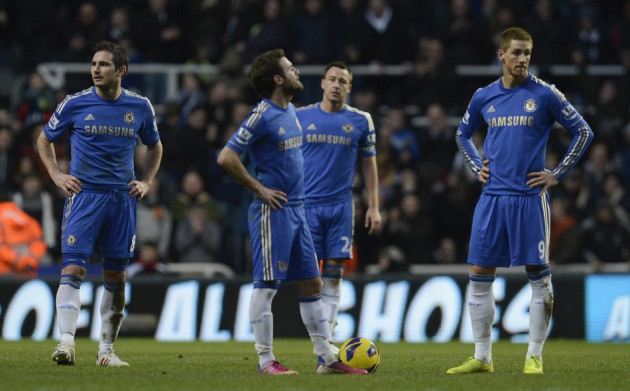 "I just don't get it; we know John Terry is by far Chelsea's best defender," Cascarino told talkSPORT. "He's the best reader of the great, a natural defender that instinctively finds positions to stop the opposition; he's been doing it for years.
"In yesterday's game Gary Cahill got caught two or three times the wrong side of him, and he missed a chance the keeper made a save or he didn't make the most of an opportunity Aguero but that has been a common theme, they've not just been quiet right.
"I don't care if it's Ivanovic, Cahill whoever plays in there, David Luiz all of them, they are nowhere near to the level of John Terry's defending and that baffles me.
"Precautionary, checking whether John's going to be fit if he's not quite right; come on, how many players are actually 100% week in, week out in their careers? Very few I would say."
Benitez's reign has been dominated by a defensive guise which has worked to undermine the club's attacking trio of Eden Hazard, Oscar and Juan Mata who threatened in the early weeks of the season to be the linchpins of Chelsea's season.
But Benitez's refusal to mirror the free-flowing attacking play during the tenure of Roberto di Matteo has earned him criticism from a Stamford Bridge crowd who have failed to warm to the ex-Liverpool boss.
"He initially came in and when they played the first game and had the 0-0 draw I remember thinking 'I'm sure which way Chelsea fans are going to take this'," Cascarino added.
"This is an attempt to outwit the opposition type of manager. Then come the games when there were a lot of great performances and they looked far more adventurous he's gone back to protecting what they are as a side and I think if you've built a team around Oscar and Hazard, players like that, Mata, players who like to get in good positions and win games.
"Demba Ba must be scratching his head thinking I've left Newcastle, I've come to Chelsea and I'm getting the odd chance and crumps to feed off and that will certainly rile Chelsea fans even more."