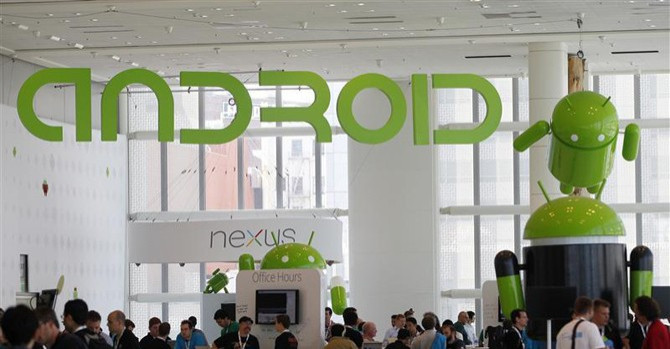 From personal organisers, to travel guides, games and something that tells you when your friends are growing vegetables, we round-up the best apps on Android from the past seven days:
Let's start with something creative. Sketchbook Inc. is a drawing app for your Android tablet which lets you paint, colour-in and share whatever it is you can imagine. It has seven different ink styles meaning you can change the width and speed of your virtual brush.
You can also import pictures from your personal photo library to trace over, which is handy. It's still early days for this app and it'll need updates and new features adding before it feels complete, but if you've got drawing talent, there's not much you can't do with Sketchbook Inc.
CSR Racing arrives on Android this week, a superb-looking racing like which, like EA's Real Racing is a bit heavy on the in-app purchases, but handles, looks and sounds great nonetheless.
And for the bling happy, there are plenty of customisation options. You can do paint jobs, vanity plates, those gaudy decal things that look like car tattoos - taking a car designed by world class engineers, painting it gold and strapping "P1MPM0TH3R" to the front and back is a fun game in and of itself; aside from its amazing looks, perfect controls and enormous roster of real cars, CSR Racing is worth it just for that.
A neatly-designed food app, Crunchd is like a social network for people that grow their own food, a sow-cial network if you will (sorry.)
Logging in using your Facebook account, you can see what any friends using Crunchd are currently growing, as well as reading recipes they've shared. Of course, you can also upload your own recipes and use the app to keep a calendar of what you have planted and when it needs harvesting. Crunchd even hands out virtual badges for achievements like planting your first vegetables, writing your first recipe and so on. It's almost like FarmVille, except, you know, real.
For the very busy, this messaging and voicemail app is a must have. In one sense it's like Skype or WhatsApp - it lets you make calls and send messages to other people using Libon for free. But its USP is how it treats voicemail; if you're in the awkward position of being away from the phone a lot but still receiving lots of calls, Libon is great.
It visualises your voice messages, so rather than having to go through them one by one, you're presented with a list letting you pick which to listen to first and which to delete. It can also convert voicemails into text messages, so if you're in the middle of something and you can check VMs quietly.
As well as allowing you to make playlists of podcasts and share them across devices, PODFY syncs with your smartphone or tablet meaning you can access all the podcasts you have downloaded on your computer on your mobile device
Once synced, it also updates the subscriptions on your phone or tablet automatically; you don't have to continually go back to the computer to add a new podcast to your phone. It might not seem so incredibly sexy, but PODFY works flawlessly and has a gorgeous interface to boot.
WWE Presents: Rockpocalypse is as silly and wonderful as its title. Bad guys are attacking the set of the Rock's new movie and he needs to stop them before they end the world by unleashing a virus.
The gameplay is Tekken meets Streets of Rage as you stomp around levels getting into brawls. It's occasionally buggy, but it actually has The Rock doing a voiceover, so there's that. This is dumb, disposable fun.
OrSaveIt stops you from spending money on things you don't need. You set a savings goal of say £2,000 for a holiday and then, if the impulse takes you to drop £40 on some jeans, you use the app as motivation not to. Instead of spending the money on trousers, you tap "£40" into OrSaveIt and that's added to your save total.
At the end of each week, it gives you a report on how much you've saved by not spending on impulse buys. It's a small psychological prompt, but it helps a lot. Pretty layout, too.
At the risk of making ourselves redundant, Fetch is a great app which searches for other apps that you might want to download. As well as compiling a list of recommendations based on apps you've downloaded in the past, Fetch has a remarkably detailed search function, allowing you to pinpoint, say, specific types of gameplay like "amazing graphics."
Fetch comes with a database of app characteristics built-in, so you compile a list of what you're looking for using them and the app goes through Google Play to find things you're interested in. It's easy to use and surprisingly quick, Just don't forget where you heard about it first, yeah?
Generally, when you think of travel apps you think of Transport for London or Cityplanner, apps which give you train times and road updates. Tripomatic is a bit more colourful. With detailed maps of more than 300 destinations worldwide, it lets you find attractions that are nearby (more than 40,000 places of interest are featured) and add them to an itinerary which can be arranged by date, day and time.
Itineraries can be changed even offline so you can sort them out on the plane over and the maps are laid out really nicely. They're simplistic, bold and vibrant with pictures of local attractions popping up as you swipe through them.
And finally this week, Worms 2: Armageddon, a re-release of a Worms game for the Xbox Live Arcade. Cartoonish graphics, a slick interface and lots of funny violence - it's Worms as you know it but with a touch screen, which makes holding down and releasing to fire your rocket launcher all the more intuitive.
There's online multiplayer and also a great Pass and Play mode, meaning you can pass your device between friends to take turns in four-player games. Remember how on PlayStation and Xbox you had to pass the controller around? It's just like that, which is great.