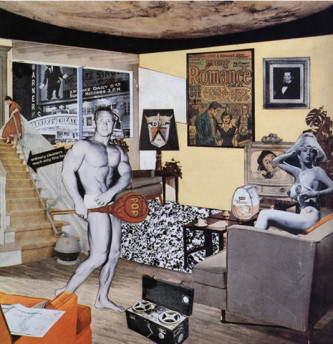 Got your new 2014 diary yet?
Well, London will prove again its cultural dominance with an ambitious and exciting new art programme.
To keep it simple, I followed the traditional 10-best list.
I based my criteria on popularity of institutions and artists.
London 2014 art programme will show its cultural power with an eclectic mix- Pop artist Richard Hamilton, greatest Old Masters Rembrandt and Constable, fashion celeb Jean-Paul Gaultier, film maker Chris Marker and primary figure of the Beat Generation, postmodernist author and artist William S. Burroughs.
So get ready for a captivating 2014.
---
Richard Hamilton: 1922- 2011 @ Tate Modern,Institute of Contemporary Arts
(Opens in February)
---
Richard Hamilton is one of the most influential British artists of the 20th-century.
He is widely regarded as a founding figure of pop art, who continued to experiment and innovate over a career of 60 years.
Tate Modern will present the first retrospective to encompass the full scope of Hamilton's work, from his early exhibition designs of the 1950s to his final paintings of 2011.
This exhibition explores his relationship to design, painting, photography and television, as well as his engagement and collaborations with other artists.
Who is not familiar with his iconic painting Just what is it that makes today's homes so different, so appealing? or Mick Jagger's iconic series Swinging London, 1967 as well as his images of other celebrities such as Bing Crosby and Marilyn Monroe.
To coincide with the Tate retrospective, the ICA will present two installations by Richard Hamilton, Man, Machine and Motion, 1955 and An Exhibit ,1957.
---
Giorgio de Chirico: Myth and Mystery @ Estorick Collection
(Opens in January)
---
This exhibition offers British audiences an outstanding opportunity to explore the enigmatic world of Giorgio de Chirico (1888-1978) through rarely seen sculptures reflecting the artist's fascination with classical myth and legend.
It will also feature a selection of drawings on related themes by the father of pittura metafisica.
---
William S. Burroughs, David Lynch, Andy Warhol @ The Photographer's Gallery
(Opens in January)
---
The Photographer's Gallery is planning an ambitious 2014 programme by bringing three legendary names throughout the gallery's newly refurbished three different floors.
In this series of photographs, film director David Lynch extends his unique cinematic style to dark and brooding images of derelict factories. The exhibition will feature black and white photographs shot in various locations.
The images depict the labyrinthine passages, detritus and decay of these manmade structures – monuments of a bygone industrial era slowly being taken over by nature. The exhibition will also include sound works created by the artist. This will be the first European showcasing of this series.
Taking Shots will be the first exhibition worldwide to focus on American novelist William S. Burroughs' little known photographic work and offers new and important insights into his artistic and creative processes. Coinciding with the centenary of Burroughs' birth, the exhibition will highlight Burroughs' dynamic approach to image making.
Pop Art pioneer Andy Warhol's photographs from 1976 to 1987 and his stitched works will provide an insight into Warhol's visual daily life; people in the streets, parties, uninhabited interiors, cityscapes and signage.
As with his canvases, formal aspects and patterns in subject matter emerge, showing photography to be at the centre of Warhol's thinking, looking and making.
---
Henri Matisse: The Cut-Outs @ Tate Modern
(Opens in April)
---
The exhibition is devoted to Matisse famous paper cut-outs made between 1943 and 1954. It will bring together around 120 different works in a ground breaking reassessment of the final chapter of his fifty-year career.
When ill health prevented him from painting later in life, Matisse began to cut into painted paper to make sculptural forms, infusing them with the luminosity of stained glass.
The results reflected his renewed commitment to form and colour. The exhibition will re-examine the methods and materials that Matisse must have used, and display as a centrepiece a stained-glass window that has never before left America. Nicolas Serota, the Director of the Tate revealed "I have been wanting to put on an exhibition of Matisse's cut-outs for 30 years...this will be the one and only time they leave New York."
---
David Hockney: Printmaker @ Dulwich Picture Gallery
(Opens in February)
---
At the Dulwich Picture Gallery, a major exhibition of printwork by the inimitable David Hockney will showcase the extent of his output and range of styles charting the artist's print production from his first print 60 years ago to his last print in 1998 including computer drawings – preludes to his recent work on iPad.
The exhibition, the first major show to concentrate on the complete trajectory of his printwork, will focus on Hockney's lithographs and etchings in two distinct sections exposing new insights beyond the purely formal aspects of his work delving into his mastery of technique.
Graphic works of renowned sitters will include portraits of Celia Birtwell and Henry Geldzahler while complete sets will include The Weather Series and A Hollywood Collection.
The Dulwich Picture Gallery will follow its strong programme "Art and Life: Ben Nicholson, Winifred Nicholson, Christopher Wood, Alfred Wallis, William Staite Murray, 1920 – 1931" (4 June – 21 September 2014) with a sensitive examination of the artists prolific output during their early time together and a rare opportunity to see their views of the same landscapes, seascapes, still lifes, portraits and some of the most memorable works of the period.
---
Fourth Plinth Commission Announcement
(Opens in February)
---
The shortlist of artists for the next Fourth Plinth Commission has been announced.
The artists are Marcus Coates, Hans Haacke, Mark Leckey, Liliane Lijn, David Shrigley and Ugo Rondinone.
The six artists have been commissioned to produce maquettes of their proposed works, which will go on display at St Martin-in-the-Fields from the 25th September until the 17th November 2013.
The two selected artists will be announced by the Mayor of London in early 2014, and their works will be unveiled in Trafalgar Square in 2015 and 2016.
The Mayor of London Boris Johnson said: "In a prime position in the heart of our great city, the Fourth Plinth is one of the most exciting platforms for international contemporary art.
Always eagerly anticipated, it's about cutting-edge artworks that get people talking and debating and I've no doubt the artists on this latest shortlist will do just that."
---
Jean Paul Gaultier: From the Sidewalk to the Catwalk @ Barbican.
(Opens in April)
---
The first major exhibition devoted to the celebrated French couturier, Jean Paul Gaultier. This theatrically-staged exhibition brings together more than 140 cutting-edge couture and ready-to-wear garments including iconic costumes for film and performance from the early 1970s to the present day.
The infamous conical bra and corsets Madonna wore during her 1990 Blonde Ambition World Tour are showcased alongside stage costumes designed for Kylie Minogue as well as pieces created for the films of Pedro Almodóvar and Luc Besson's The Fifth Element.
---
Rembrandt: The Final Years @ The National Gallery
(Opens in October)
---
Rembrandt: The Final Years offers visitors the once-in-a-lifetime opportunity to experience the passion and innovation of Rembrandt's late works, in an exhibition organised by the National Gallery in collaboration with Amsterdam's Rijksmuseum.
The exhibition will bring together approximately 40 paintings, 20 drawings and 30 prints, featuring key works.
Rembrandt's restless creativity gathered new energy as he aged. Between the 1650s and his death in 1669 he consciously pursued a new style that was even more expressive and profound.
His audacious manipulation of printing and painting techniques, and his new and original interpretations of traditional subjects, gave his work a depth that influenced countless printmakers, painters and draftsmen in the generations that followed. This promising exhibition highlights the formal and iconographic concerns that occupied Rembrandt in the final years of his life. Earlier in September, the V&A will present another major Old Master - "Constable: The Making of a Master" at the Victoria&Albert. (Opens in September).
This exhibition will reveal the hidden stories of how Constable created some of his most loved and well-known paintings.
It will present Constable's work for the first time alongside the old masters of classical landscape such as Ruisdael and Claude whose compositional ideas and formal values he revered and studied in great depth. On display will be such famous works as The Haywain together with the oil sketches he painted outdoors direct from nature which are widely held to be unequalled at capturing transient effects of light and atmosphere.
The exhibition will also examine Constable's collection of over 5000 etchings, a vital resource for his own image making, as well as the mezzotints of his paintings made in the last decade of his life to secure his lasting legacy.
---
Chris Marker @ Whitechapel Gallery
(Opens in April)
---
Visionary French filmmaker, photographer, writer and artist Chris Marker (1921 –2012) is widely acknowledged as the finest exponent of the 'essay film'.
He is best known as the director of over 50 films including Sans Soleil (Sunless, 1983), A Grin Without a Cat (1977) and for his most influential work La Jetée (The Pier, 1962), imagining a Paris devastated by nuclear catastrophe and composed almost entirely of black-and-white still photographs, which later informed the narrative of Terry Gilliam's 12 Monkeys (1995).
He was a prescient multi-media maker, exploring the future through both digital art and via his numerous online avatars. This important exhibition – his first UK retrospective – looks at Marker's prolific career and considers his influence on contemporary British art and artists.
---
Marina Abramović @ Serpentine Gallery
(Opens in June)
---
Summer 2014 will see Kensington Gardens become a destination for devotees of the 'pioneer of performance art' as Marina Abramović takes up residence at the Serpentine Gallery.
Following her major retrospective The Artist is Present at MoMa in 2010, the celebrated artist will create a brand new performance for the exhibition as well as works from throughout her career, re-performed for the first time since their original presentation.
Virginia Damtsa is the co-founder of contemporary art gallery Riflemaker with Tot Taylor.