Top 10 Windows Phone Apps of the Week - May 2, 2013
Doors, the puzzle game for lovers of confined spaces
We're looking at you this week Windows Phone owners. We've got apps to teach you Japanese, apps to remind you where you are and apps to help you tumble.
Here are the ten top apps available on Windows Phone this week.
Windows Phone 8, Windows Phone 7.5
This is not one for claustrophobes. Doors is a point-and-click style puzzle game where you have to decipher increasingly complex passcodes in order to open locked - you guessed it - cupboards. No, I'm just joking - it's doors. It's interesting; it's rewarding; some of the levels are nigh on impossible (to hell with you level 49.)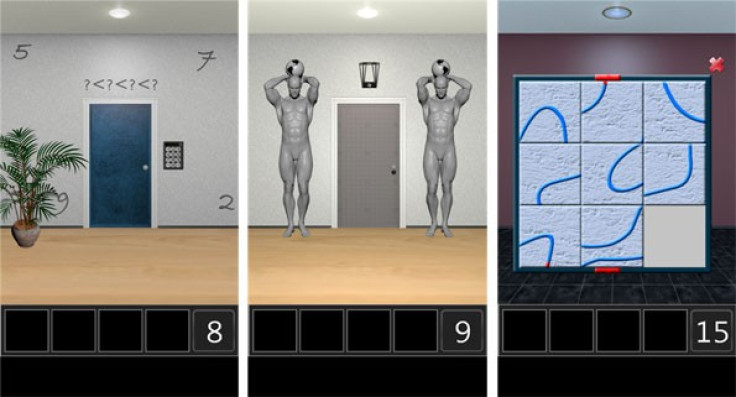 As well as tapping the touch screen and using your brain, to get through the doors you'll need to occasionally shake and tilt your phone. A small touch, but it adds a welcome new dimension to smartphone puzzle games. It also makes you look daft on the tube.
Windows Phone 8, Windows Phone 7.5
It's pricy, yes, but this is THE app for learning Japanese. It's comprehensive, comprising lessons on how to speak, write and read Japanese, as well as flashcards, quizzes and a complete Japanese/English dictionary. It also has calligraphy tutorials for kanji, Hiragana, and Katakana and audio pronunciation for every word.
Simply put, this app will teach you Japanese. It's full, easy to use and good-looking to boot. If you want to become fluent or just pick up a smattering for your holiday, Japanese Hub is as good as evening classes and better than a phrase book.
This is a simple, useful task manager app to keep track of where you need to go and what you need to do. You can use GPS to find locations, put them in a list and then add whatever it is you need to do at each. You can mark down shops, train stations or bars where you might be meeting friends then assign a task to each place. The app will then give you periodical reminders, so, if you're mega busy, it's a big help.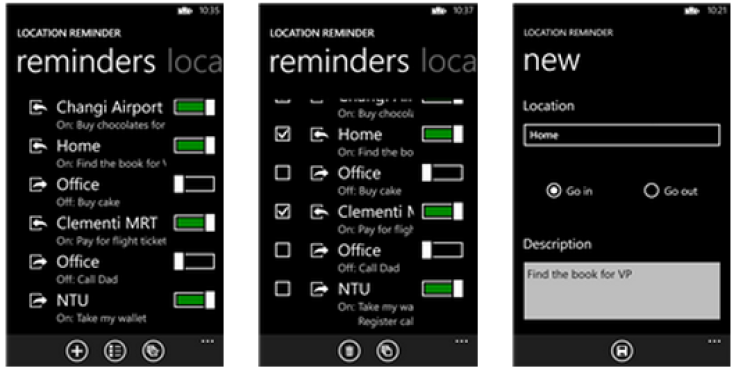 This is simple, easy and it works.
Windows Phone 8, Windows Phone 7.5, Windows Phone 7
This is like Countdown meets Battle Royale (stay with me). In Wordament, you're connected to other players around the world, all of whom are looking at the same board of 16 letters as you are. The game lasts two minutes and the idea is to make as many words out of those letters as you can, with the board continually rotating and introducing new letters.
It's super competitive. Despite the parlour game set-up, it's easy to lose your cool in Wordament. The only downside is that you have to be online to play, meaning this is one for lazing round the house rather than killing time on your commute.
Complain about Starbucks; share inspirational quotes that you've stolen; post pictures of landscapes with a black and white filter. Yes. Tumblr has finally arrived on Windows Phone 8 with the added bonus of voice-posting.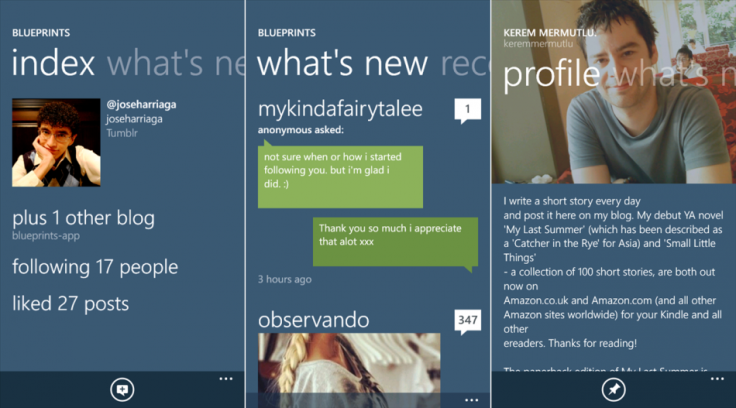 It also feeds stuff from the Tumblrs you follow onto the Windows Phone live tiles, so it's easier to keep up with what everyone else is blogging. It's early days for the Windows Phone version of Tumblr (the longstanding Android version got a sweet revamp last week) so there a still a couple of technical niggles. It crashes every now and then which is a pain and there are occasional bugs which mean you can't see messages or likes. Regardless, stick with it. Tumblr for Windows Phone is bound to improve in the next couple of months.
Windows Phone 8, Windows Phone 7.5
Speaking of live tiles, this app lets you create and customise the Windows Phone dashboard, letting you make your own tiles and map actions to them. If you want a flashier way to check your email for example, you can create a tile using a picture of a funny cat or something and have it open your inbox every time you tap it.
The only downside is that you can't use custom pictures for existing apps; you can't, for example, change the Netflix app icon to a photo of your mum.
Windows Phone 8, Windows Phone 7.5
"We are not related to Google Inc." says the page for gMaps Pro, which tells you pretty much all you need about this app. A comprehensive mapping application, gMaps Pro comes with about everything you'd expect by now. Directions, street view, local venues popping up as you go - it's Google Maps, basically, expect for Windows Phone.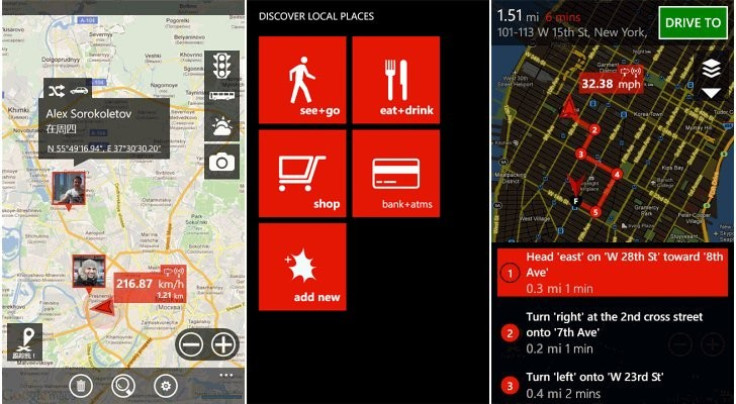 gMaps also sends updates to the Windows Phone live tiles. It provides weather reports too, naturally, and has a tiled interface for letting you discover local places of interest. It's better than Nokia Maps, basically, so get it.
Windows Phone 8, Windows Phone 7.5, Windows Phone 7
The acclaimed Wonder Reader is on sale on The Windows Store right now and if you're a veracious article-worm you'd be mad not to get it. If you already have a Google Reader account, this app syncs with it to bring over all your preferences and unread articles to Windows Phone. Otherwise, it's a simple way to discover reading material on the internet.
You can search for popular articles manually from topics like Tech or Lifestyle, or set up preferences so they're fed to you automatically. You can also add article feed live tiles, so you can see on the homescreen when a new Gardening article has appeared for you or something.
Windows Phone 8, Windows Phone 7.5
A text/puzzler-based adventure game, The Cabin is an homage to the popular Fighting Fantasy series of comic books and sees you trying to work out who, exactly, has locked you inside a cabin in the woods.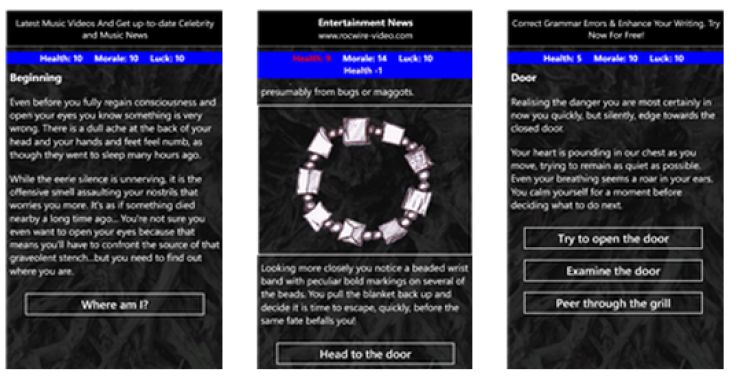 The writing's fun (it's a bit like R.L. Stine) and there's a pretty simplistic choice system. The Cabin isn't like old text adventures where you had to type in your actions: It gives you a set of options and you just picked which to go with. The Cabin's just the first part in a series of adventure games called The Last Tower, and well worth a look.
Windows Phone 8, Windows Phone 7.5
And lastly, Wikipedia, which has just been updated to include live tile support and voice recognition. Apart from the attractive and easy to tap interface (Windows Phone does interfaces well) Wikipedia has a handy function that lets you save articles for offline viewing later so, if for example, you come across this great list of 136 Creepy Wikipedia articles and want to read them on the plane, you can do that.
It's not the sexiest app on our list this week, but it gives you access to all of Wikipedia in the palm of your hand, even if you're camping in the Outer Hebrides, and that's pretty good.
© Copyright IBTimes 2023. All rights reserved.