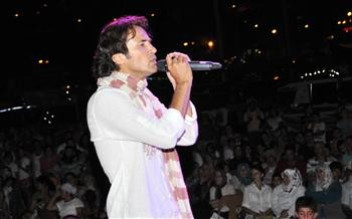 A Turkish imam is under investigation for singing in a rock band in his spare time, according to reports.
Ahmet Muhsin Tuzer, 42, is imam and muezzin of the mosque in the village of Pinarkoy, southern Antalya. He is also the lead singer of the Firock rock band, whose first concert in the town of Kas attracted thousands of people last month.
The melodic rock band, whose main hit is entitled Mevlaya Gel (Come to God), consists of a drummer, a guitarist, a bass player and its lead singer, Tuzer. They plan to release an album next month. However, the "rocking imam", as he is nicknamed, may contravene state and religious conventions with his budding musical career.
All imams in Turkey are civil servants hired and paid by the Diyanet, the General Directorate of Religious Affairs, a state institution which manages the country's 80,000 mosques.
The investigation into Tuzer's singing pastime, the results of which have yet to be released, will have to conclude whether the imam's hobby conflicts with his religious calling.
Tuzer maintains he has not done anything wrong by singing in Firock.
"I want to celebrate Allah in every place," he told Turkey's Anadolu news agency. "I don't think I have caused the slightest damage to my institution. On the contrary, I have won the love, respect and admiration of millions of people."
While some villagers claim Tuzer causes no problem to them, the rocking imam told Turkish media he received hundreds of threats and complaints after the concert in August.
"Unfortunately, there are people in this country who say that being an imam and playing rock music do not go together," he said during the interview on TV8.
Tuzer is not new to scandals. He is married to a Christian woman in the first union of its kind by an imam employed by the Diyanet.