Twitter scores big with NFL Thursday Night Football livestream
The company paid a reported $10m (£7.5m) to broadcast 10 Thursday night football games this season.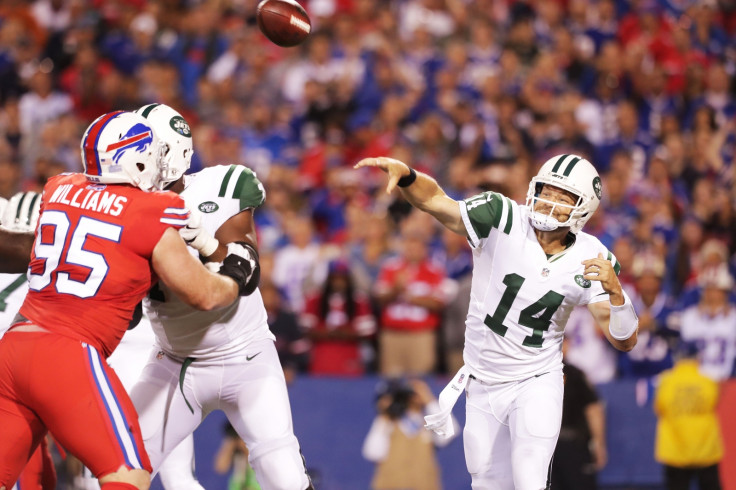 Twitter has received rave reviews for its National Football League (NFL) live-streaming debut on Thursday (15 September), marking the first time that a game has been broadcast live on the social media network across the globe for free. The company paid a reported $10m (£7.5m) to broadcast 10 Thursday night football games this season, including Thursday's matchup between the New York Jets and Buffallo Bills.
The company reportedly scored the deal over tech giants Facebook, Verizon, Yahoo and Amazon in April, despite the fact that it was not the highest bidder.
"We did not take the highest bidder on the table," Brian Rolapp, the NFL's executive vice president of media, told Bloomberg in April. "The platform is built around live events already. We want to see how they use the unique platform, and syndicated tweets all over the Internet is going to be interesting."
Fans were able to watch Twitter's Thursday Night Football stream from any country where Twitter operates, except for Canada which has a separate TV rights contract with the NFL.
Users, both on desktop and mobile, were able to view related tweet commentary alongside CBS's live video feed of the game that included the same footage and commentary from the television broadcast. Fans did not have to necessarily have a Twitter account to watch the game either and could opt to watch it through the tnf.twitter.com website.
People with an internet connection could simply watch the game via their phone, computer, Twitter app on Amazon Fire TV, Apple TV and Microsoft's Xbox One.
"These devices will bring Twitter's live streaming video experience to life on the TV screen," Twitter's chief financial officer Anthony Noto said in a statement earlier this week. "Twitter has always been a great complement to TV, and now fans can enjoy even more premium video with live tweets - and the best content on Twitter - right from their TVs. We're excited to introduce this new experience to people, without requiring a paywall or having to log in to Twitter."
Many fans appreciated the new, free service on the popular platform:
However, some users did complain about "buffering" issues and said that the Twitter video did lag behind the television broadcast. Others also reported issues that the tweet stream did not auto-refresh, saying they would have preferred the option of viewing their own feed rather than Twitter's curated TNF feed.
Although it is not clear how many viewers tuned in to watch the live broadcast yet, the positive reception thus far does serve as an indication of possible future success as the company attempts to boost its own revenue, broaden its appeal to cord-cutting users and attract new ones to compete with rivals Facebook and Snapchat.
With over 300 million users, Twitter has also signed streaming deals with the National Basketball Association, the National Hockey League and Major Baseball league as part of its push to establish itself as a leader in mobile video and live streaming events. The company also signed a deal with Sky Sports to broadcast Premier League football match goals and highlights during the 2016/17 season.
© Copyright IBTimes 2023. All rights reserved.