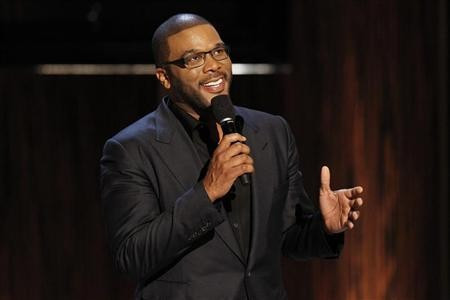 Hollywood film producer Tyler Perry has donated $1m to Bishop TD Jake's Potters House church.
The Why Did I Get Married creator made the donation for the spiritual leader's youth centre during the annual Megafest event in Dallas, Texas.
Perry, 43, along with Oprah Winfrey, Lakewood Church pastor Joel Osteen and dozens of other Christian ministers, attended the three-day faith and family festival.
"I love to give," he told the congregation from the stage. "I've been a giver all my life.
"God has touched [givers]. They don't understand it where I come from. They don't understand it in Hollywood, but I'm going to tell you something about the blood of Jesus."
Rather than return the microphone back after making his announcement , he then went into preacher mode and laid hands on Jakes to bless him.
"Don't worry about your enemy. Don't worry about your hater. He will bless you. He will lift you," Perry proclaimed. "Sometimes you spend too much time worrying about your haters."
After the service a viral video appeared with the caption: "I can't even put into words what all happened today at the Potter's House. You have to see it for yourself."
One commentator said: "Those that doubt/question if Tyler Perry can lay hands have to at the same time ask themselves, can God use you. If your answer is yes, then God can use him also. Point blank, period."
"Blasphemy! Such a joke," another wrote.