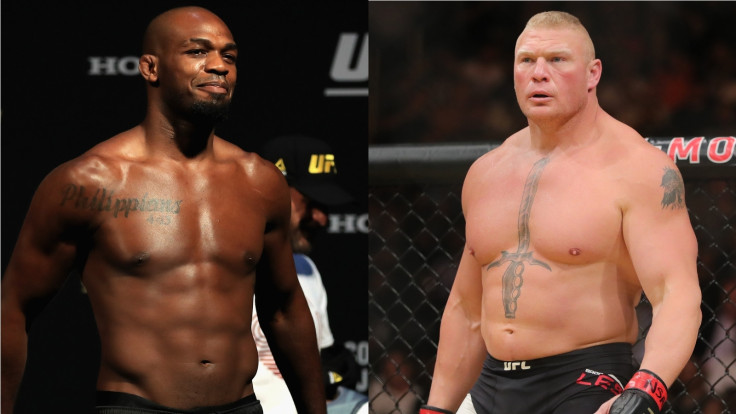 Newly-crowned UFC Light Heavyweight Champion Jon Jones and WWE Universal Champion Brock Lesnar look to be on a collision course, with a mixed-martial arts fight between the two seemingly in the works for 2018.
Jones called out the former MMA superstar after he defeated Daniel Cormier in his return fight to capture the title at UFC 214. "Brock Lesnar. If you want to find out what it's like to get your ass kicked by a guy who weighs 40lbs less than you, meet me here," he said.
WWE legend and announcer Jim Ross (J.R.) gave his thoughts on the prospective superfight in his latest blog post, also revealing that Jones is interested in working with WWE.
"Word on the street is that Jones is also interested in a WWE payday some day in the future which adds some irony to the Bones-Brock UFC scenario," he writes.
"Athletes are arguably smarter today than ever before and they realise that these massive paydays are not going to last forever plus the fact that no one ever has 'enough money' contrary to public sentiment from those who actually don't have enough money."
Brock Lesnar returned to WWE in 2012 after his MMA career seemingly ended after consecutive defeats to Cain Velasquez and Alistair Overeem following bouts of digestive disease diverticulitis.
After a few years in WWE in which he won the WWE Championship and ended The Undertaker's legendary Wrestlemania winning streak in 2014, he returned to Octagon last summer at UFC 200 to defeat Mark Hunt via unanimous decision.
He tested positive for a banned substance following the fight and was suspended for a year with the result of the fight overturned to a no-contest.
Since then Lesnar has returned to WWE to feud with Randy Orton and then Goldberg, the latter feud culminating at Wrestlemania 33 where he defeated the former WCW superstar to capture the Universal Championship he still holds today.
At 30, Jon Jones certainly has a few years left in the UFC including potential big money fights against Lesnar and the soon-to-return Georges St. Pierre. Should he decide to get a payday at WWE after his MMA career ends, the wrestling company will certainly be interested.
J.R. also gave his thoughts on Jones's possible fight with Lesnar, reiterating that he thinks it will generate one million PPV buys. "This main event gives UFC a 'hit,' without question, while they await other stars to either return to form (GSP) (Conor McGregor) or continue to evolve as legit, PPV selling main eventers," he wrote.