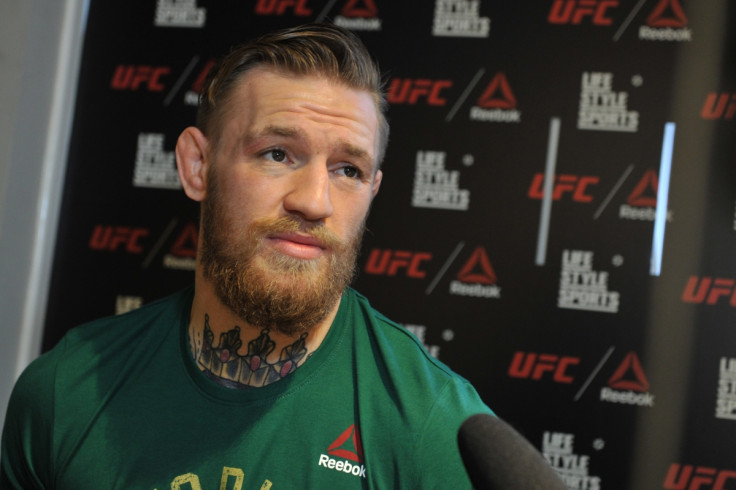 Conor McGregor has turned up the heat on his forthcoming UFC 194 main event clash against Jose Aldo, vowing to end the highly anticipated contest within the first round. The notoriously brash Irishman will finally square off against the company's pound-for-pound king at the MGM Grand in Las Vegas on 12 December after their initial bout in June was delayed due to his opponent sustaining a rib injury during training.
While Aldo was forced to withdraw, McGregor remained on the bill and ended UFC 189 as the interim featherweight champion after defeating late replacement Chad Mendes. And while he is likely to face a far tougher test this time around against one of the sport's most celebrated fighters, the confident 27-year-old is predicting another swift result.
"I visualise entering the contest unpredictable," he said at a final press conference as quoted by Fox Sports. "I will pressure him. I will evade him. I will strike him with every limb. The knee, the heel, the fist, the elbow. I will be a ghost in there. He will think I'm there and then I'm not there. He will think I am not there and then I am there. I'm going to put on a masterpiece for this fight. This will prove my point that I am the number one.
"I feel within four minutes the shots will have landed. It's on him after that. I feel anything after that four-minute mark of the first round will be a formality. It will be on him, where he is mentally, where he is physically and how much he truly wants this. I see him crumbling towards the end of the first or not answering the bell for the second. But it will be wrapped up inside one."
Unbeaten over the past decade, many have speculated that Aldo may choose to retire following his bout with McGregor. The Brazilian champion has dismissed that notion, though, insisting he still has a lot to achieve in his glittering career.
"This won't be my last fight. I think I still have other opponents to face," he said. "If the fight stays standing, I will knock him out. If he goes to the ground, I'll submit him. This night will be perfect, and I will win."