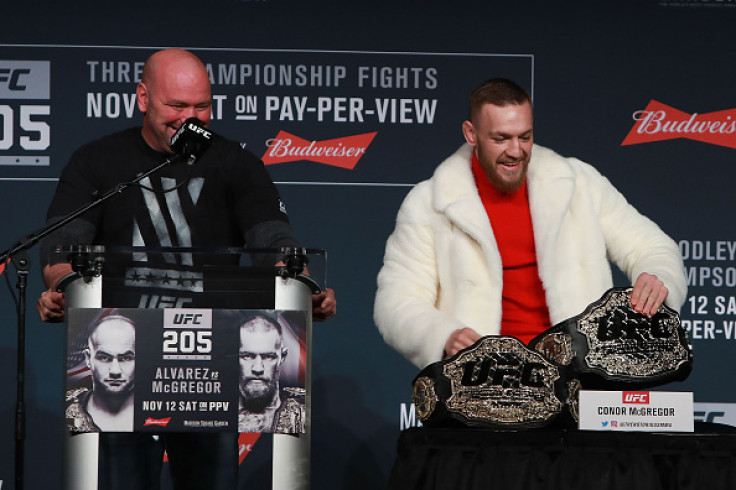 Ultimate Fighting Championship president Dana White has issued a warning to Conor McGregor that a potential boxing bout with Floyd Mayweather will take place only after he completes his four fights left on his UFC contract.
The Dubliner created history when he became the first fighter in the promotion to become two-division champion following his victory over Eddie Alvarez at UFC 205. Since then, there have been several reports suggesting that the lightweight champion could face the boxing legend.
McGregor is currently on a break from the sport and will only return to fighting after his girlfriend gives birth to their first child. Mayweather earlier admitted that a fight between him and the Irishman "will happen," which has also been acknowledged by the latter.
However, White has advised McGrgeor that it will be "pretty tough" for the UFC star to break his contract and suggested him to complete his four fights remaining on his current deal before arranging a fight with Mayweather.
"It will never happen; that's not even possible. He's under contract with us. You have a contract for a reason. Let me tell you what, there are a lot of contracts out there, no matter what business you are in - UFC or whatever - and it's pretty tough to get out of a contract," White explained, as quoted by the Irish Mirror.
"And if that's what Conor wants to do, he's got four fights left. He's got four fights left with the UFC. Fight your four fights and, you know, go out and do what you want to do."
"Listen, Conor was walking into a pay-per-view where he had to sell to people [the concept of] hearing him talk. I'm sure people aren't crazy about buying tickets of pay-per-views to hear him talk; they want to see him fight. I get it," he said.