UFC bantamweight title contender TJ Dillashaw believes there was no reason for current champion Cody Garbrandt to be upset with him for leaving Urijah Faber's Team Alpha Male (TAM).
Dillashaw adds that he does not care if Garbrandt releases the training video that reportedly shows the current champion knocking him out.
The bantamweight title contender Dillashaw used to train with TAM alongside Garbrandt in Sacramento, California, becoming champion in May 2014 after defeating longtime title-holder Renan Barao.
However, he departed Faber's team in October 2015 to follow head coach Duane Ludwig to Elevation Fight Team, with bad blood rising between the two camps ever since.
With Dillashaw now facing Garbrandt for his title in The Ultimate Fighter 25 finale, the storyline has already been set as the two fighters have been engaging each other in a war of words.
The former bantamweight champion however, believes Garbrandt has no reason to be upset with him for leaving and is only getting mad to impress the recently retired Faber.
"Urijah is Cody's daddy," Dillashaw said as quoted on MMAFighting. "Cody can't make any decisions without Urijah. Urijah's involved with everything. That's why Urijah was mad when I left. He likes to be in control. He wants to be the top dog."
"I hardly even know Cody. It's kind of comical that Cody wanted to get mad about this whole thing cause I hardly even know the guy. He was on his way in when I was on my way out. He was on the team when everyone was making fun of him for who he was. Now everyone's got his back cause he's doing great. He's doing good for the team and getting a good name out there.
"But really the beef with Cody is just comical because it shouldn't concern him at all. Just because it involves Urijah, he wants to get all riled up and fluff out his feathers and act like a tough guy. I expected this from Cody. He's a hothead and just for him to not really be able to express himself mentally but just get all worked up.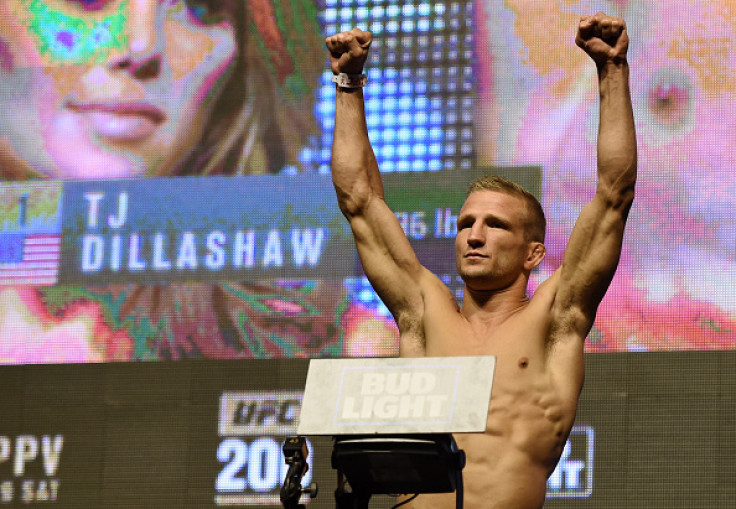 Garbrandt has also been threatening to release a video of himself knocking the 31-year-old out in training. Dillashaw previously denied that there was any such tape and dared Garbrandt to release it, but now says even if the footage exists, it is inconsequential.
"It's f**king practice! Who really even cares?" he added. "They can release that video. I could care less because, for one, I don't even think it happened, and two, it's freaking practice and I don't really care. They should just take the hours and hours and hours of footage of me whipping Cody's ass and making him leave practice crying."
"The kid's tough, don't get me wrong. But when it comes down to it, being a well-rounded martial artist and sparring, sure Cody had some good days but to say percentage-wise, I'm getting 75 percent of those good days. I'm on top. I definitely felt like the top dog while I was there."