Stephen "Wonderboy" Thompson has revealed that he is feeling good following a successful surgery on his knee in his home state of South Carolina.
Thompson, still looking groggy, posted a video on Instagram to update his fans on his condition. The surgery was performed to repair the damage to the meniscus in his knee suffered during his title bout with welterweight champion Tyron Woodley at UFC 209.
The former kickboxing champion first faced off against Woodley at UFC 205 in a back-and-forth bout resulting in a majority draw. The title fight was awarded "Fight of the Night" with many calling for a rematch between the duo to settle the score.
The rematch was eventually set for UFC 209. However, the fight was a shadow of the bout that took place nearly five months earlier in New York.
With both fighters being very conservative, fans in attendance started to boo as Woodley eventually won via a controversial majority decision — with even UFC president Dana White scoring the win for Thompson.
While "Wonderboy" thought he won the fight and spoke of his desire for a third match, it may not happen due to the reception that his title fight with Woodley got at UFC 209, leaving a bad taste in fans' mouths.
Then there is Demian Maia, the number one contender - there has already been an outcry that he has not received his title shot, with many feeling the UFC do not want him as a potential champion.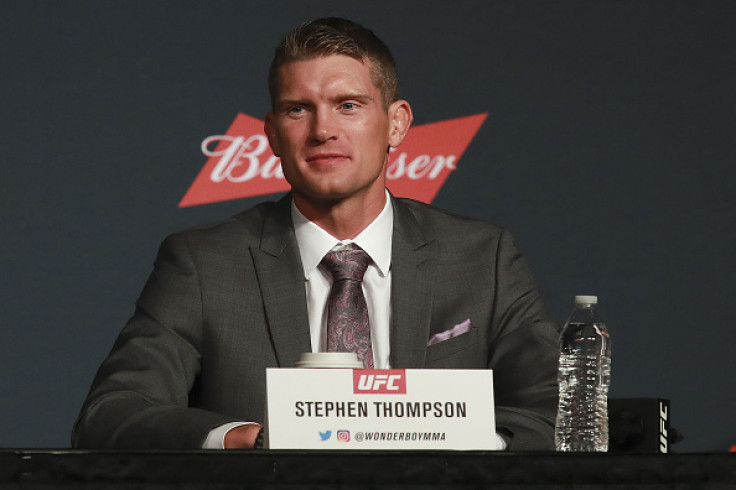 In all likelihood Thompson will have to wait for Woodley to lose belt in order to get his next shot at the welterweight title.
Meanwhile, despite the successful surgery, the 34-year-old is not expected out for too long. While he will still have a few weeks of rest and recovery, Fox Sports learned that Thompson could be back in the octagon sooner than expected.
While there is no expected next opponent for Thompson, Gunnar Nelson, teammate of Conor McGregor, was recently touted as a potential opponent by SBG head coach John Kavanagh, following the Iceland-born fighter's impressive submission win over Alan Jouban at UFC London.