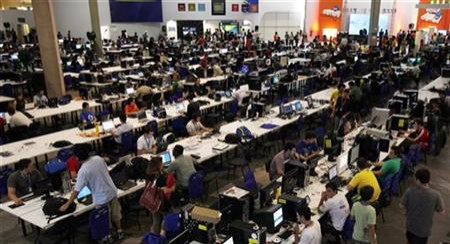 A new research has revealed that the broadband download speeds in the UK have dropped by an average of 35% during the evening internet "rush-hour."
According to the released figures, which were analysed from two million broadband speed tests across Britain, a massive fluctuation was noticed in surfing speeds during peak and off-peak times.
Analysts found the quickest web download was experienced between 2 a.m. and 3 a.m. with a fastest average download speed of 9.6 MB/s. However, during the peak period between 7 and 9 p.m, the internet users experienced that the download speed dropped to a third to 6.2 MB/s.
USwitch, the comparison site which published the data, also found huge regional differences in the peak and off-peak periods.
In the areas of Evesham, Worcestershire, web users experienced a massive 69 percent drop, with an average morning download reading of 15.5 Mb/s, falling to 4.9 Mb/s in the evening.
The web users in Wadebridge, Cornwall, meanwhile, faced a limp off-peak speed of 4.1 Mb/s, which halved to just 2.1 Mb/s in the evening.
USwitch technology expert, Ernest Doku, said only a small number of web users are consistently enjoying the maximum headline broadband speeds offered by providers.
"It really is surprising just how much broadband speeds fluctuate at different times of the day, with drop-offs of almost 70% in some areas of the UK," said Doku.
"This research may help to shed some light on why many bewildered consumers, who believe they've signed up to a certain broadband speed, never actually feel like their connection is fast enough.
"Although providers are working hard to upgrade the UK's broadband infrastructure, there is a long road ahead to ensure that everyone can enjoy a much more consistent service."