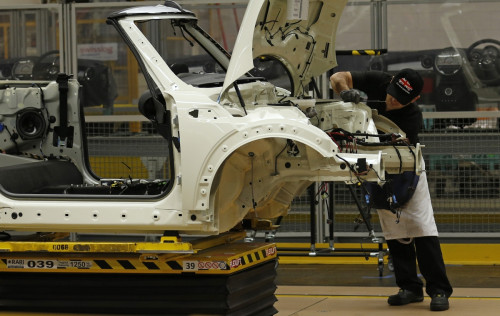 Car manufacturing in the UK is on track to reach a six-year high, having produced about 1.4 million vehicle units in the first eleven months of 2013, according to a report.
The Society of Motor Manufacturers and Traders (SMMT) said the UK car industry manufactured 1,424,023 units in the first 11 months of 2013, up 4.5% year over year.
The growth was attributed to a 24.2% increase in demand in the home market and new models coming onto the market.
Britain has recently outpaced other European countries in car registrations, as its economy recovered and car dealers offered attractive financing schemes to customers. Demand for new fuel-efficient models has also boosted sales.
The SMMT also projects that output would surpass 1.5 million units in 2013 for the first time in six years.
Nevertheless, car production declined by 3.6% in November to 142,825 units, as several UK sites prepared for new model production.
"A number of mass-market manufacturers have this year used November to prepare their production lines for new models, so volumes dropped 3.6% in the month. However, the forthcoming new models will play an integral part in what is predicted to be an even stronger 2014 for UK car manufacturing," SMMT chief executive Mike Hawes said in a statement.
However, manufacturers' preparation of its production lines is expected to boost output in 2014.
Commercial Vehicles and Engines
In November, the production of commercial vehicles declined by 35.7% to 7,061 units, and it fell 21.5% over the first 11 months to 82,535 units.
"Ongoing weak European demand and changes to UK manufacturing operations impacted commercial vehicle production in November," Hawes added.
He expects the downward trend to continue until mid-2014.
Meanwhile, engine manufacturing rose for a third consecutive month in November, rising 3.4% to 231,371 units due to higher exports.
For the year-to-date period, engine output increased by 2.5% to 2,404,146 units on the back of robust home market performance.
Automotive industry accounts for 10% Britain's total exports and has an annual turnover of £59bn ($96.3bn, €70bn), according Reuters.