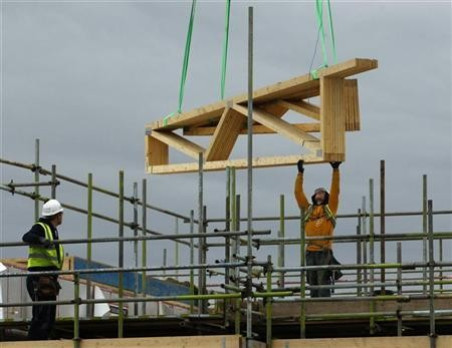 Britain's construction sector contracted for the second month running in September, according to a private industry survey, the first two consecutive declines since the start of 2010.
Output and business levels dropped across the month, with the sharpest fall in house building work since December 2010 and the fourth month in a row of dwindling new business, as firms felt the pressure of bloating construction costs because of rising fuel and raw materials prices.
"September's figures show the construction sector's cupboard to be well and truly bare, rounding off a disastrous quarter," said David Noble, chief executive officer at the Chartered Institute of Purchasing & Supply (CIPS), which compiles the purchasing managers index (PMI) alongside Markit.
"After the longest continual decline in new orders for three years, this is of no surprise.
"This continued poor performance has been compounded by an increase in input prices reflecting rising cost pressures across the global economy."
Construction PMI came in at 49.5 in September, up slightly from the previous month's 49.0. A sub-50 figure indicates contraction, while anything over indicates growth.
A collapse in construction sector activity helped drag Britain down into its second recession in four years at the end of 2011. It has struggled to recover since.
The government has shifted its focus towards infrastructure, with a £40bn scheme seeing taxpayers underwrite the finances of major projects that are due to start but cannot find credit because of the squeeze on bank lending.
There is also a £9.4bn fiscal boost to upgrade the rail network and a review of planning laws is underway in the hope that slashing unnecessary red tape will stimulate construction activity.
"Looking ahead, there is little to be positive about. Homebuilding continues to be hit hard, the commercial sector, so long the star of the industry, has lost its sparkle," said Noble.
"That civil engineering has seen a moderate increase in activity is scant consolation.
"All of this points to an ominous future. In the absence of investment of some kind, we are likely to see this level of activity continue for some time, or possibly even drop further."
---
Follow @shanecroucher