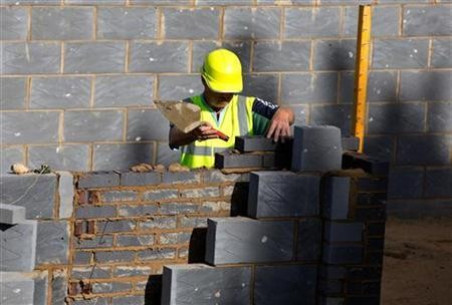 January UK Construction Sector PMI Reading
48.7: unchanged from December.
Other data
Business activity falls for third month running in January.
New orders decline at slowest pace since October 2012.
Eighth consecutive fall in new business intake.
Higher construction workforce numbers for first time in four months.
Business outlook improves since December.
Comment
Tim Moore, senior economist at Markit and author of the Markit/CIPS Construction PMI, said:
"January's survey results are yet another indicator of the severe underlying fragility across the UK construction sector, with output failing to rise in any of the three monitored sub-sectors for the first time since last summer.
"Snowfall at the start of the year may have disrupted output to some degree, but unfavourable weather outside is clearly far down the long list of difficulties afflicting construction companies at present. Weakness was again most prominent within the house building sub-sector during January, while civil engineering swung back into contraction after a four-month period of growth.
"Despite the ongoing downturn in output, there was some let up in the pace of new order decline, as well as a resilient employment trend in January.
"Looking ahead, construction firms reported improved optimism about the business outlook, although much of this appeared to rest on hopes that the chorus of calls for greater public sector investment spending starts to come to fruition."
Context
This number comes in below consensus expectations and indicates that the construction sector's weakness will continue through this year.
There are also few signs that government efforts such as the UK Guarantees Scheme and investment in the rail infrastructure is having much impact on the sector, which has been in freefall since the last quarter of 2011 and was the catalyst for the double-dip recession.
Read the Markit report in full.
---
Purchasing managers index (PMI) surveys are carried out by Markit Economics and the Chartered Institute for Purchase & Supply (CIPS).
Each month purchasing managers across private UK firms are surveyed to give an indication of business activity in the service, manufacturing and construction sectors.
On the index, neutral output activity is 50.
Any reading above represents expansion, while under signifies contraction.
---
Follow @shanecroucher