Britain's economy is growing at a faster than expected rate after the latest set of Markit data showed that the service sector expanded more quickly than forecasted in January this year.
Markit/ Chartered Institute of Purchasing & Supply's (CIPS) UK Services Purchasing Managers' Index (PMI) showed that PMI rose to 57.2 in January, from a 17-month low in December at 55.8, which suggests the overall economic growth could be better than expected for 2015.
This is data topped all of Reuters' polls of economists. A reading of 50 or more denotes growth.
"The data will allay fears that the economy is slowing sharply, having merely seen growth cool during the winter to a more sustainable pace," said Chris Williamson, chief economist at Markit in the report.
"Even more encouraging is the upturn in employment. The surveys are currently signalling an impressive net rate of job creation of approximately 70,000 per month."
The latest set of data will throw support behind the government's linchpin argument that the economy has dramatically recovered since the Conservative's took office.
The services PMI's employment index also recorded the best reading since June 2014 at 57.1.
Moreover, the UK composite PMI rose to 56.9 in January from 55.5 in December.
"The dominant sector in the UK continues to lead the way with strong growth and robust activity at the start of the year, now for 25 months in succession, and at a level which shows confidence for the coming months," said David Noble, group CEO at the Cips.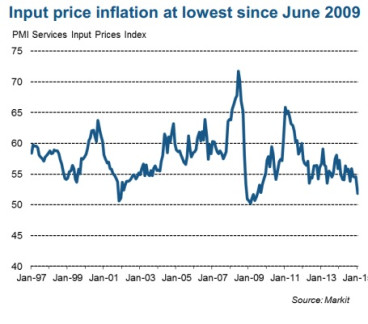 "The survey offers positive news around employment levels, with procurement and supply management professionals indicating the joint second highest rise in over 18 years of data collection. Staff recruitment levels also reflected business optimism for the future and not just for the fulfilment of backlogs and new orders arriving, experienced by a third of respondents.
"Some firms are also offering higher salaries for the right candidates to counteract the skills shortages experienced by some, as the dangers of increasing backlogs are still ever-present if firms are unable to recruit the right people, at the right time.
Meanwhile, input price inflation eased to the lowest since June 2009 during January, which Williamson believes will lead to the Bank of England delaying a raise in interest rates after keeping them at a record low of 0.5% since 2009.