Britons may be less worried about the GDP data or the job market and are ready to spend more, suggests a survey by the financial services firm, Nationwide.
According to the survey, British consumer morale peaked in March in nine months when people started spending on houses and cars.
Though the retail sales numbers in March tally with the biggest rise in over a year, they are not in conjunction with the Office for National Statistics (ONS) data released on Wednesday.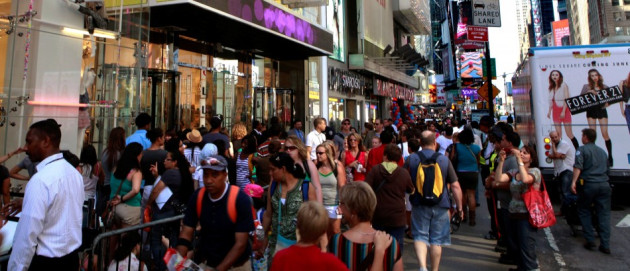 According to ONS data, Britain is technically languishing in the territory of recession with the economy recording a 0.2 per cent contraction in the first three months of 2012.
It is the second quarterly contraction for the UK economy despite a 0.3 per cent drawback in the last quarter of 2011, meeting the technical definition of a recession.
"It's a very tough economic situation," Chancellor George Osborne said in a statement.
"It's taking longer than anyone hoped to recover from the biggest debt crisis of our lifetime."
According to the Nationwide data, the headline consumer confidence index in March rose to 53 from 44, which is recorded for February. Yet it remained 23 points lower than its long-run average.
"Much of the survey-based data has painted a more upbeat picture of the UK economy than official data in recent months - March's consumer confidence index continues that trend," Reuters quoted Robert Gardner, Nationwide's chief economist, as saying.
"It may be that the general decline in inflation from the recent highs of 5.2 per cent last September to 3.5 per cent in March has helped to support spending power and therefore lift consumers' spirits over the past six months," Gardner added.
"But with the economy expected to gather pace only slowly, the improvement in confidence may prove shortlived," he said.
The Nationwide survey was conducted between 20 Feb and 25 March and included 1,000 people.
Another survey by the GfK NOP revealed that British consumer confidence unexpectedly fell to a three-month low in March as Britons grew increasingly worried about the outlook for their finances and for the economy as a whole, according to a Reuters report.