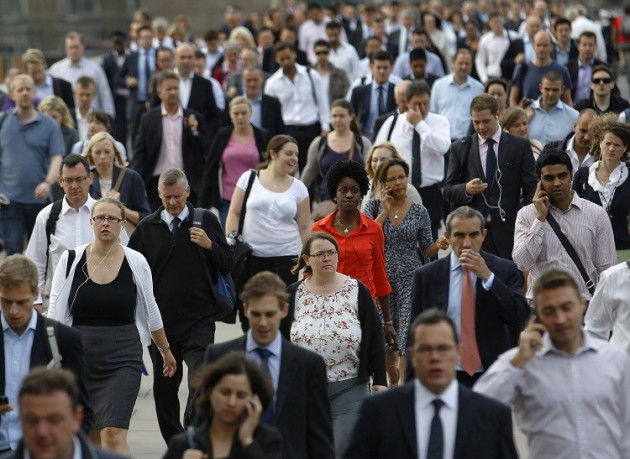 Britain's dominant service sector saw activity expand at its fastest pace in over 16 years during October, as output across private industry in the three main sectors hit an all-time high.
October's Markit/CIPS purchasing managers index (PMI) for the UK service sector jumped to 62.5, up from September's 60.3 and the sharpest growth in activity since May 1997. The service sector represents three quarters of the UK economy.
It follows strong PMI performances by both the manufacturing and construction sectors during the same month, as the UK's all-sector PMI hit 61.5 - a record high. Any number over the neutral 50 represents an expansion in activity, while below signifies a contraction.
Chris Williamson, chief economist at Markit which compiles the purchasing managers surveys, said the UK's economic recovery "moved up a gear again in October".
"Historical comparisons of the PMI against gross domestic product suggest the latest survey data are consistent with a 1.3% quarterly rate of GDP growth, up sharply from previous quarters," he said.
"The surveys also indicate that the rate of private sector job creation is currently running in excess of 100,000 per quarter.
"Manufacturing, services and construction all continued to see very strong rates of expansion, pointing to an ongoing broad-based upturn. However, it is the services sector which - due to its sheer size - is the major driving force behind economic growth at the moment."
Williamson added that the ever-strengthening performance of the UK economy will likely lead to the Bank of England upgrading its forecast for when the unemployment rate drops to 7%, the threshold at which monetary policymakers will consider hiking the base interest rate from its record-low.
"An impressive figure from the service sector finishes off yesterday's positive PMI releases," said Sasha Nugent, Caxton FX analyst.
"The outlook for the UK is looking brighter and with manufacturing, construction and service sectors all pointing to solid growth, the probability the BoE will have to raise its quarterly growth projections is increasing.
"A more optimistic BoE and an increasingly dovish ECB is likely to force the GBP/EUR rate higher."
According to the Office for National Statistics (ONS), the UK economy grew by 0.8% during the third quarter. This is quicker than the second quarter's 0.7% and 0.3% in the first, as the recovery gathers pace.
However, HSBC warned Chancellor George Osborne should focus on the quality of the recovery rather than the quantity, pointing to the UK's continuing heavy reliance on debt-driven consumption.