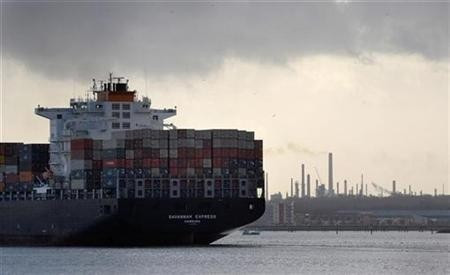 UK exports to its key trading partner, the European Union, tumbled to their lowest value since August 2010 in December, according to official figures.
In the final quarter of 2012, the UK economy slumped to a -0.3 percent contraction amid flat growth in its powerhouse service sector and a continued decline in production, manufacturing, and construction.
The EU is the UK's largest trading partner, representing around half of all the country's trade.
HMRC, the country's tax office, said the value of UK exports to the EU plunged on the month by £2.4bn (€2.8bn/$3.7bn) in December - 18.1 percent - to £11.1bn.
Imports from the EU also dropped to their lowest value since August 2010, falling by £3bn from November to December, 16.2 percent, to £15.4bn.
This caused the country's trade deficit with the EU, the difference between exports and imports, to fall to its lowest since May 2012, at £4.3bn.
Chancellor George Osborne has set the target of increasing the value of UK exports to £1tn by the end of the decade and eyes it as a key route to a lasting economic recovery.
However, a continuing slowdown in important global markets, such as Asia's emerging economies, as well as ongoing crisis and recession across the eurozone area, have dampened demand and hindered efforts to grow the level UK's outgoing trade.
Eurostat reported a sharper-than-expected contraction across the eurozone in the fourth quarter, with a -0.6 percent decline in GDP for the single currency area.
---
Follow @shanecroucher