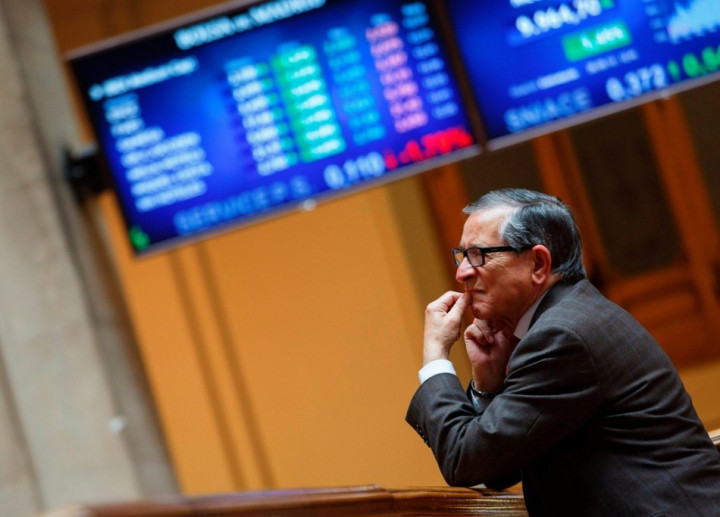 European markets opened higher and continued logging gains afterwards, buoyed by hopes that US politicians were close to resolving the ongoing fiscal deadlock, which threatens to stall economic recoveries in the US and around the world if left unsolved.
The Stoxx Europe 600 index opened 0.5% higher to 313.78.
Britain's FTSE 100 opened 0.7% higher.
France's CAC 40 opened 0.3% higher.
Germany's DAX 30 opened 0.4% higher.
Italy's FTSE MIB was trading 0.19% higher.
Spain's IBEX 35 was trading 0.08% higher.
Market players took in remarks by US Senate Majority Leader, who said that he was "very optimistic" that the two sides would "reach an agreement that's reasonable in nature this week to reopen the government, pay the nation's bills and begin long-term negotiations to put our country on sound fiscal footing."
Republican minority leader Mitch McConnell said he was optimistic about reaching a deal, according to media reports.
"We have had an opportunity over the last couple of days to have some very constructive exchanges of views about how to move forward," McConnell said. "Those discussions continue, and I share optimism that we're going to get a result that will be acceptable to both sides," he added.
The US government shutdown will enter its third week on 15 October and Congress has 72 hours to decide on whether to raise the US debt limit.
The world's largest economy could run out of cash to pay its bills after 17 Octoberif the government's borrowing limit is not raised. The country's laws limit its borrowing to $16.7tn (£10.4tn, €12.3tn).
There are various estimates as to when the US government could run out of money.
Economists at JPMorgan provided a precise date of 24 October. However, the Bipartisan Policy Center expects the date to be anywhere between 22 October and 1 November.
Market participants in Europe will be tracking September inflation data coming in from the UK. They will also be tracking the results of the ZEW German and eurozone economic sentiment surveys for the month of October.
In Germany, Chancellor Angela Merkel's centre-right group and the Social Democratic party (SPD) are expected to hold a third round of talks this week to examine the possibility of forming a coalition government.
Portugal, Ireland and Italy are due to table their 2014 draft budgets on 15 October, which will be scrutinised by the European Commission.
Data from France showed that the country's EU-harmonised index of consumer prices (HICP) remained steady at 1% in September. The consumer price index (CPI) increased 0.9% year-on-year in September. On a monthly basis, both HICP and CPI fell 0.2%.
"The eurozone recovery remains fragile with economic growth expected below 1% for 2014. Hence, as the eurozone economy is still closely tied to US economic cycles, prolonged fiscal turmoil in the US could endanger the recovery," Societe Generale Cross Asset Research said in a note to clients.
"Market tone improved somewhat [on 14 October] after top [US] Senators said they are 'very optimistic' at a deal being reached soon, just a few days before the deadline set by Treasuries. A White House meeting was postponed but the mood remains one of optimism. With hurdles remaining, though, we expect market sentiment to consolidate going forward [on 15 October] as talks continue," Credit Agricole said in a note to clients.
In Asia and the US
In Asia, the Japanese Nikkei finished 0.26% higher on 15 October. Australia's S&P/ASX finished 0.98% higher while South Korea's Kospi ended 1.02% higher.
Earlier in Asia, markets outside mainland China traded higher on news that US lawmakers were close to resolving the ongoing fiscal gridlock that has brought the world's largest economy to a near standstill.
However, Shanghai witnessed cautious trade ahead of the release of China's third quarter growth numbers.
In China, government data showed that the country's financial institutions handed out 787bn yuan ($128.8bn, £81bn, €95b) in new loans in September, beating expectations by a wide margin. A Wall Street Journal (WSJ) poll of analysts expected China's loan disbursals to hover at 674.5bn yuan.
On Wall Street, indices ended higher on 14 October on hopes that Washington was inching closer towards a deal.
The Dow finished 64.15 points higher at 15,301.26. The S&P 500 closed 6.94 points higher at 1,710.14, while the Nasdaq ended 23.40 points at 3,815.27.
The CBOE Volatility Index (VIX), broadly regarded as the best gauge of fear in the market, finished near 16.
The US bond market was closed on 14 October on account of Columbus Day.