UK Property Prices Hit Record High in April
The average asking price for a property in UK hit an all-time high in April, according to the latest data released by Rightmove.
Britain's house prices rose 2.9 percent by £6,798 in April from 1.6 percent in the previous month and the average property asking price stood at £243,737, beating the prior record set in May 2008 by 0.5 percent.
The growth in national asking prices was driven by London and South West regions as they have recorded new price peaks this month, surpassing previous records by 2.1 percent and 2.3 percent respectively. Whereas the South East and East Anglia are now just 0.3 percent and 1.1 percent off new record highs.
"This is a reflection of the new world where house prices in micro-markets are driven as much by banks' willingness to lend as by consumers' desire to buy, making buying aspirations more achievable in the relatively credit-worthy south, and London in particular. Those deciding to sell in the south are looking a lot more confident in their pricing power than their more nervy northern counter-parts," said Miles Shipside, Director of Rightmove.
The number of properties for sale increased by 8.1 percent outside of London but overall supply is still down 30 percent compared to April 2007. The South West, where supply is down 5.5 percent on last year, hits a record-breaking average asking price of £270,735, while the South East and East Anglia are just £810 and £2,489 off their previous peaks.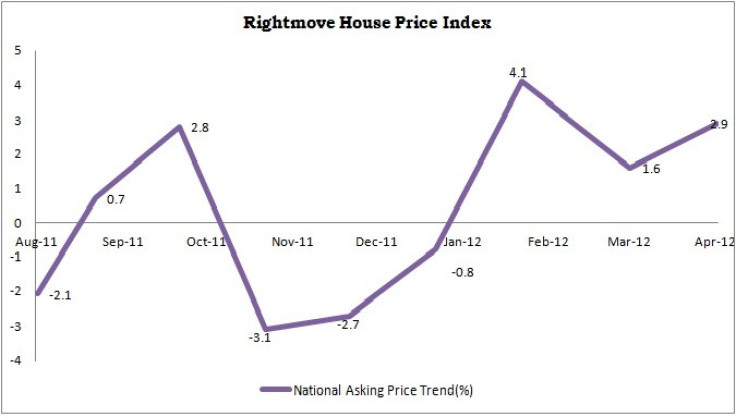 According to Rightmove, the record growth in house prices should be considered against retail price inflation of 11.5 percent since May 2008, which means, national average asking prices are still down in real terms by 9.9 percent over the period.
"While there are still micro-market hotspots in the north, there are more negative elements to add in to their moving equation, such as employment prospects and lack of equity. Such factors can undermine, or scupper, prospective buyers' ability and confidence to buy at inflated prices. More potential buyers in the south have the virtuous circle benefits of less economic stress, greater access to equity making them more appealing to lenders, and consequently more confidence to pay higher prices," Miles Shipside added.
© Copyright IBTimes 2023. All rights reserved.