UK Inflation Sticks at 2.7% in December
UK inflation was unchanged at 2.7 percent in December for the third month in a row, according to Office for National Statistics data published Tuesday.
"At a more detailed level, there were significant upward and downward pressures on the index," said the ONS.
The biggest upward pressure on the headline figure was from gas and electricity bills, which increased in December as winter took hold and suppliers increased their charges.
Air fares were the biggest drag on CPI, with the rate of their increase slowing significantly.
"This was partially counterbalanced by a downward pressure from motor fuels," said the ONS.
Clothing and footwear prices tumbled 1.5 percent in the Christmas month - accounting for "the vast majority of the downward contribution" - as retailers discounted to take advantage of the festive shopper rush.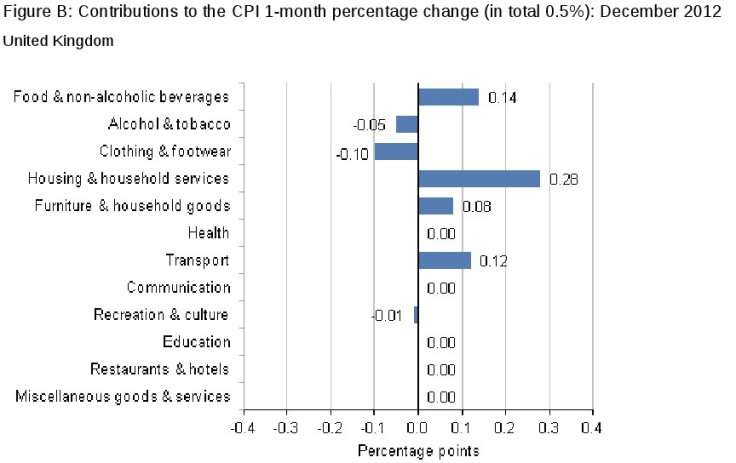 Inflation has proved sticky in recent months as volatile commodity prices, such as energy and food, rippled through the markets to the consumer.
The Bank of England predicts inflation will fall to the government's 2 percent target by the end of 2013.
Policymakers at the BoE have been wary of the potential inflationary effect of their £375bn quantitative easing programme.
As the outlook for the British economy worsens, with many forecasters slashing their growth estimates for 2013 as the prospect of a triple-dip recession looms behind a series of disappointing data releases, the BoE is expected to add another £50bn QE.
However, its focus appears to be shifting on to its flagship credit easing initiative, the Funding for Lending Scheme, where banks are offered cheap loans in tandem with how much they lend to smaller firms and individuals.
Initial signs show that this way of incentivising affordable lending into the real economy, and so easing the credit crunch perceived by many as a key factor holding back growth, is working.
A recent BoE survey of British banks pointed to a surge in lending during 2013, thanks to FLS.
Around £500m has already made its way into the economy via FLS.
© Copyright IBTimes 2023. All rights reserved.