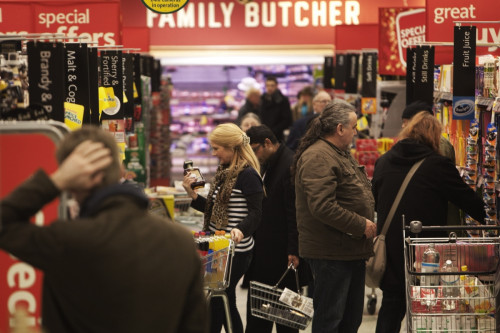 UK consumer price inflation fell to the Bank of England's 2% target during December, the first time it has done so in exactly four years to the month.
The Office for National Statistics (ONS) said falling inflation, which was 2.1% in November, was driven by slower price growth in food and non-alcoholic beverages, and recreational goods and services.
"The overall price increase for gas and electricity in December 2013 was slightly larger than the rises a year earlier resulting in a small upward contribution to inflation," said the ONS.
In November 2009, CPI was 1.9% before spiking to 2.9% the following month. Inflation peaked at 5.2% in September 2011.
Britain's monetary policy is based on an inflation targeting regime. The government has set the Bank of England's policymakers a 2% target for inflation, which they attempt to meet over the medium-term.
However because of the recent economic turmoil, which necessitated loose monetary policy such as the £375bn gilt-buying quantitative easing programme, the Bank of England has been given some slack on meeting this target.
Falling inflation eases the squeeze on wages, which have been growing slower than prices. This real terms decline is expected to continue along 2014, according to the Office for Budget Responsibility (OBR).
"Inflation has been edging towards the 2% level since last summer, which is welcome relief for hard-pressed households and businesses," said John Allan, national chairman of the Federation of Small Businesses (FSB).
"With the economy now growing, our members will be pleased that pressures on the cost of doing business are easing, though some concerns over rising fuel and in particular energy costs remain."