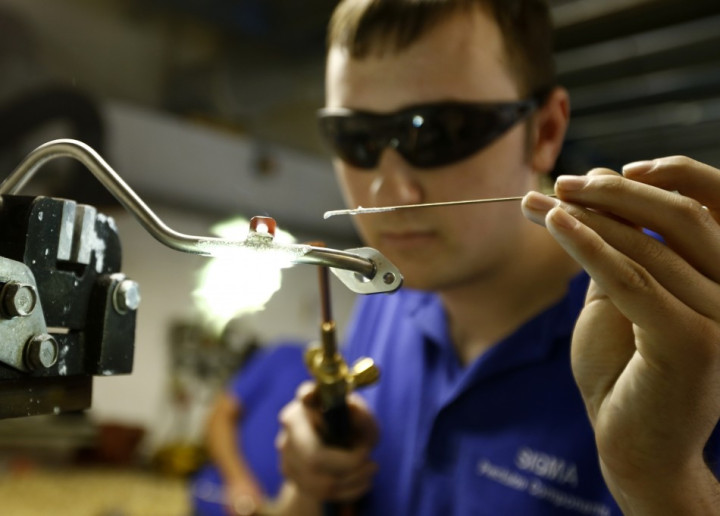 Britain's economic recovery has hit a rocky patch after the UK manufacturing sector unexpectedly contracted in May.
While overall industrial production remained unchanged, lower pharmaceuticals and metals production plunged the manufacturing sector into negative growth.
The Office for National Statistics (ONS) said that factory output declined 0.8% in May from the previous month, which failed to reach analyst expectations for a 0.3% rise. UK manufacturing declined by 0.2% in April.
According to the ONS, six manufacturing sectors declined in May from April, while seven areas experienced an expansion.
Pharmaceutical and metals led the drop in the sector, which was only partially offset by higher output of food and drink, due to warmer weather and the start of summer.
Overall industrial output was unchanged from April.
An Unexpectant Slide
Manufacturing declined by the fastest pace since January, after dropping 2.9% year-on-year in May.
Economists expected a decline by 1.6%. Meanwhile, year-over-year industrial production declined 2.3% in May, worse than economists' expectations for a 1.5% drop.
The weak manufacturing data comes after a survey last week showing the sector had its best growth in more than two years in June.
Furthermore, three surveys published earlier on Tuesday showed an improvement in retail sales, home prices and business confidence in the country.
The slowdown in the manufacturing sector indicates that Britain's recovery would not be broad-based.
Worsening Deficit
Britain's trade deficit worsened to £8.5bn ($12.7bn, €9.8bn) in May the highest level in six months.
According to ONS data, exports increased 1.5%, while imports climbed 1.3%. While the deficit with the European Union improved, trade with the rest of the world deteriorated further.
"It's just a reminder that while the UK economic figures are looking better, the economy isn't out of the woods yet," said Philip Shaw, an economist at Investec in London.
"It looks like industrial production will make a negligible contribution to GDP. The Bank of England (BoE) is likely to be leaving policy on hold or potentially loosening," added Philip Rush, an economist at Nomura International.
Last week, BoE officials kept key policies in tact at Mark Carney's first meeting as governor.
The bank kept its bond-purchase programme at £375bn and its key interest rate at a record low 0.5% at the meeting. However, the BoE warned that it expects a pick-up in interest rates amid signs that the US is preparing to cut down its bond purchase programme.
The pound fell as much as 0.7% against the dollar after the data, and is trading at $1.4847 at 11:42 am.