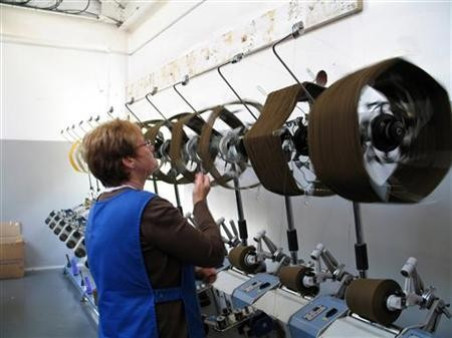 February Manufacturing Sector PMI Reading
47.9, down from January's 50.5.
Key points
Output and new orders both register falls since January
Tough market conditions, both at home and abroad, weigh on demand
Staffing levels reduced at quickest pace for 40 months
New export orders declined for the fourteenth successive month
Sharpest reduction in purchasing activity for seven months
Comment
Chris Williamson, Chief Economist at survey compilers Markit, said:
"The return to contraction of the manufacturing sector is a big surprise and represents a major setback to hopes that the UK economy can return to growth in the first quarter and may avoid a triple-dip recession.
"The data so far this year point to manufacturing output falling by as much as 0.5 percent, meaning a strong rebound is needed in March to prevent the sector from acting as a drag on the economy as a whole in the first quarter.
"There are good reasons to believe the PMI may turn up again in March, providing hope that a further downturn can be avoided. First, the bad weather at the end of January looks to have had a knock-on effect to production and orders in February via disrupted deliveries. Second, the Chinese New Year holidays are having an increasingly disruptive impact on global trade flows as each year goes by and appear to have had a stronger than usual effect in February. Third, the weaker pound may help exporters in coming months.
"The worry, however, is that the underlying picture remains one of a sector that is clearly continuing to struggle in the face of weak demand both at home and abroad, as reflected in the fact that manufacturers are cutting employment at the fastest rate since late-2009. At the moment these data point to scant evidence of the economy showing any significant rebalancing towards manufacturing."
Context
This has caught everybody by surprise, given the manufacturing sector output had managed to stay positive despite the headline GDP figure in the fourth quarter showing a -0.3 percent contraction.
Expectations were that, since the positivity continued in January, a PMI reading of 51 would be revealed for February. Evidently, this optimism was misplaced.
Thankfully, manufacturing only accounts for around 10 percent of UK GDP. While this news is disappointing, and certainly will not help the UK economy avoid a triple dip recession – as most economists expect it to – the real driver of GDP is the service sector, which accounts for around three quarters of it.
If the service sector starts throwing up surprise negatives like manufacturing has done here, then we should be worried.
Read the Markit report in full.
---
Purchasing managers index (PMI) surveys are carried out by Markit Economics and the Chartered Institute for Purchase & Supply (CIPS).
Each month purchasing managers across private UK firms are surveyed to give an indication of business activity in the service, manufacturing and construction sectors.
On the index, neutral output activity is 50.
Any reading above represents expansion, while under signifies contraction.
---
Follow @shanecroucher