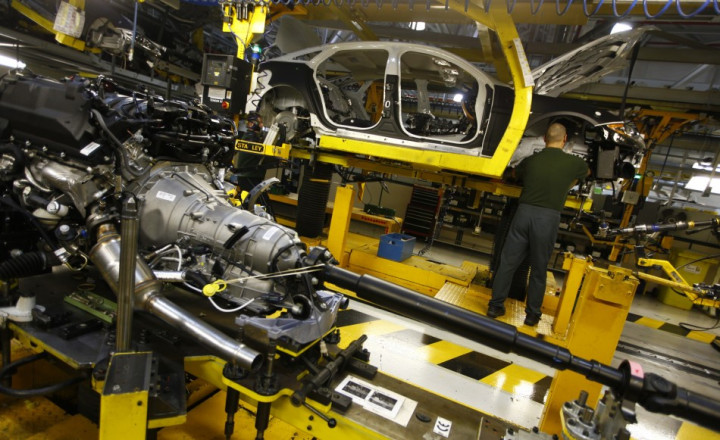 Manufacturing production fell by 2.9 percent in the UK in June on the previous month, according to official data, as the additional day off for the Queen's Diamond Jubilee celebrations and an extra bank holiday moved from May held output down.
The figure represents the steepest fall since November of 2008.
As the UK's recession deepened in the second quarter, slowing emerging economies and the perpetual eurozone crisis dampened export market demand.
Hopes for the sector are now pinned on the Bank of England's latest credit easing efforts free up affordable finance for small and medium-sized manufacturing firms.
"Weak trade partners are one reason why the country's manufacturing industry is not doing so well, limiting hopes for the elusive export-led recovery," Tim Ohlenburg, senior economist at the Centre for Economics and Business Research (CEBR), said.
"Support for innovative firms, credit for small business and a focus on emerging markets would help the UK to regain its industrial strength.
"An industrial revolution is not on the cards given the disappointing state of the sector though."
Growth is slowing in India and China, while the eurozone - the UK's biggest trading partner - is struggling to get out of financial crisis, with several of its member states falling into recession, including Italy and Spain.
Britain tumbled deeper into recession in the second quarter with a sharp -0.7 percent contraction in GDP.
Chancellor George Osborne said in his 2012 Budget that he wants to increase UK exports to £1tn in value by the end of the decade, but the global economic slowdown is a hurdle to this ambition.
The Treasury and Bank of England believe that a squeeze on affordable credit from British banks is holding back those firms who need investment to grow, while putting others who need a cash injection to survive out of business.
Banks are cautious about taking on extra lending risk because of the potential for a eurozone disaster, such as the disorderly exit of a member state, which could mean huge losses as a result to their exposure to the single currency area.
As such bank loan rates have soared and coffers have clammed up, leaving some businesses bereft of finance.
Under two Treasury-back Bank of England schemes, British banks will be offered cheap loans in the hope that it absorbs some of the financial risk in lending and incentivises the increased availability of cheaper credit for consumers and businesses - the so-called "real economy".
The Funding for Lending Scheme (FLS) offers banks discounted loans in direct correlation to how much they lend to the real economy. As the lending value increases, so does the access to cheap loans.
A second scheme, the Extended Collateral Term Repo (ECTR), sees the Bank of England accept low-quality assets as loan security for discount-rate borrowing.
This means British banks can use bad assets, such as consumer credit card debt, as collateral to borrow cash cheaply, something they would not be able to do in the inter-bank secured loan market.
It is hoped, though not guaranteed, that cheap credit will be stimulated and become available for small and medium sized firms.
Private industry data from July showed manufacturing sector output slowing to a 38-month low.