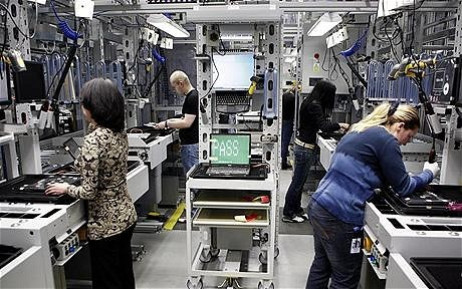 While Britain may be out of recession according to the latest official data, a private industry survey shows that manufacturing sector activity declined for a second month in a row in October.
Falling export orders amid a global economic downturn affecting Europe and Asia, as well as weak domestic demand, has hindered manufacturers in recent months.
October's purchasing managers index (PMI) figure came in at 47.5, down from the previous month's 48.1. Anything under the neutral 50 figure signifies expansion, while a number below this mark represents a contraction in activity.
"The UK's manufacturing industry continues to suffer from a potent cocktail of declining export sales, depressed demand and rising cost pressures which have resulted in a hangover that the industry has been struggling to shake off all year," said David Noble, chief executive of the Chartered Institute of Purchasing & Supply (CIPS), which compiles the PMI surveys with researcher Markit.
New work and new orders fell in October, with new export business declining sharply. Markit said ongoing economic woe in the eurozone, which is one of the UK's biggest trading partners, and reports of slowing demand in key Asian markets were to blame.
"The early survey data for Q4 serve to highlight the underlying fragility of the UK economic recovery - and the frustrating absence of a significant boost from net trade," said a note from RBS's Ross Walker.
Data from the Office for National Statistics (ONS) showed that in the third quarter Britain's economy grew by 1 percent.
Manufacturing alone grew by 1 percent.