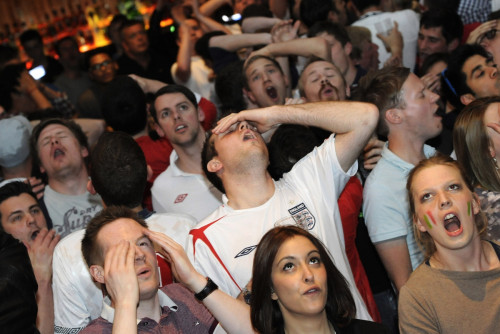 Pubs have been denied permission by the Home Office to extend their opening hours for England's opening match of the World Cup in Brazil.
The British Beer and Pub Association had asked for opening hours to be extended for England's first group match against Italy, which kicks off at 11pm BST on Saturday 14 June.
The application was for all pubs to be allowed to remain open until 1am on the Friday and Saturday of that weekend.
It also requested that opening hours be extended by an hour on the closing weekend of the tournament, 11 and 12 July.
The Home Office announced that the World Cup was not a "one-off" event like the Queen's Jubilee in 2012, so extended opening hours would not be allowed.
Graham Brunskill of the Football Supporters' Federation told the Sunday Mirror that the decision would come as a big disappointment to fans.
"With many England fans priced out of flying to Brazil by the huge cost, it's a great shame that pubs don't have more freedom to stay open for games," he said.
"For many fans, the next best thing to a live game is the communal vibe of the pub.
"During past World Cups, there was a great atmosphere with games kicking off around the clock. People really embraced and celebrated their identity and national team in a positive way. It would be nice to see that again."
BBPA chief executive Brigid Simmonds told BBC Radio 5 Live: "The Home Office wrote back to us and said, 'We don't consider this of national importance'.
"They've really missed something here and they should reconsider."
Pubs can still apply to local authorities for a one-off late licence at a cost of £21, but with locals closing at a rate of 26 a week, Simmonds said that the total cost to the industry of applying would be £735,000.
"We are only asking for the first and last weekend. For most people, pubs will be the best place to enjoy the live games in a great atmosphere. It would not cause problems, and would be a welcome boost for the industry," she said, and added that the industry had missed out on a much needed £20 million boost.