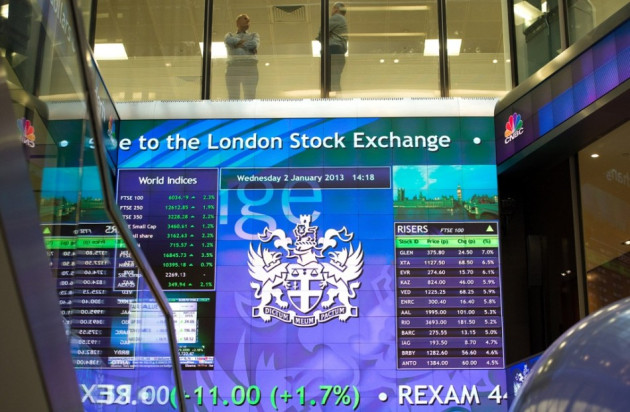 European markets outside Italy opened lower on 17 October, with all markets trading to the downside subsequently, after US lawmakers agreed to raise the government's borrowing limit, averting a potentially devastating debt default by the world's leading economy.
The Stoxx Europe 600 index opened 0.2% lower to 314.90.
Britain's FTSE 100, France's CAC 40 and Germany's DAX 30 opened 0.3% lower.
Italy's FTSE MIB was trading 0.50% lower.
Spain's IBEX 35 was trading 0.21% lower.
On 16 October, US President Barack Obama ratified a bill approved by Congress to reopen the federal government and raise the country's debt ceiling, just hours before the crucial deadline to do so.
Under the new deal, the Treasury will have authority to continue borrowing up to 7 February, and the government will be funded until 15 January.
President Barack Obama succeeded in defeating the Republicans in a 16-day long battle and kept almost all the features of his proposed healthcare law dubbed 'Obamacare'.
A US default on debt commitments would have had far-reaching consequences on both developed and emerging market economies. The partial government shutdown had cost the US economy an estimated $24bn and is expected to result in a significant reduction in fourth-quarter growth, ratings firm Standard & Poor's estimated.
America's Bureau of Labor Statistics could not release the widely tracked monthly US jobs report during the 16-day government shutdown - the report throws more light on the health of the US economy and can impact the Federal Reserve's QE taper decisions.
The Bureau would need three days to compile September's report, according to Credit Agricole, and the jobs data could be out on 22 October.
Now that the US showdown is over, the "focus will soon turn to the delayed [US] data releases and the economic implication of shutdown", Credit Agricole analyst Gary Yau said in a note to clients.
"The fact that the same scenarios could happen again in a few months' time will also play in investors' minds, but nevertheless, we expect market tone to improve over the near term."
Market participants in Europe will be tracking September retail sales data coming in from the UK.
In company news, British drinks maker Diageo reported a 3% rise in quarterly organic net sales. Growth in the Americas compensated for the decline in western Europe, the company said.
French retailer Carrefour's shares gained 3.3% in early trading in Paris, to their highest price since 2011, after the company announced that domestic hypermarket sales rose for the first time in more than two years.
Swiss food major Nestle said underlying sales growth rose 4.4% in the first nine months of 2013, against 6.1% a year-ago. The company cited weak demand in emerging markets and falling prices in Europe as the reasons for lower sales growth.
Mexican miner Fresnillo, Swiss drugmaker Roche and agri-business Syngenta have all released their earnings reports.
In Asia and the US
In Asia, the Japanese Nikkei finished 0.83% higher on 17 October. Australia's S&P/ASX finished 0.38% higher while South Korea's Kospi ended 0.29% higher.
Earlier in Asia, markets outside China logged modest gains despite news that US politicians had broken the deadlock.
In China, stock markets reversed early gains on 17 October as investors exercised caution ahead of a deluge of data expected on 18 October -- the government will release third-quarter GDP, industrial production, fixed-asset investment and retail sales data on Friday.
In South Korea, the country's central bank said that producer price inflation eased for the 12th consecutive month in September. A drop in the prices of oil and agricultural products; and a stronger local currency, with respect to the US dollar, resulted in September's decline.
On Wall Street, indices ended higher on 16 October as investors cheered news coming out of Washington.
The Dow finished 205.82 points higher or 1.36% at 15,373.83.
The S&P 500 closed 23.48 points higher or 1.38% at 1,721.54.
The Nasdaq ended 45.42 points higher or 1.20% at 3,839.43.
The CBOE Volatility Index (VIX), broadly regarded as the best gauge of fear in the market dropped 19% to 15.