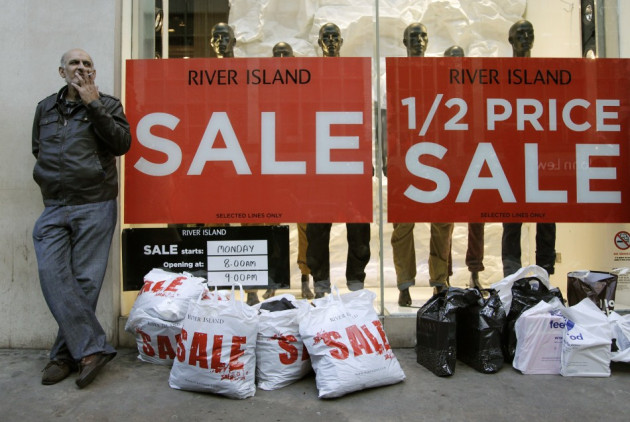 UK retail sales volume grew by 1.8 percent month-on-month in March - the biggest monthly rise in more than a year.
This robust figure will soothe the wounds of Britain's retailers, who have been hurting from dampened consumer confidence, as households struggled to cope with high inflation, frozen wages, and rising energy bills.
Excluding fuel the figure is 1.5 percent.
Year-on-year sales volume grew by 3.3 percent in March. By value, the increase was 5.7 percent, according to the Office for National Satistics (ONS).
"One of the main drivers for value and volume increases (year-on-year and month-on-month) came from sales by predominantly automotive fuel stores," said the ONS.
"The monthly increase in sales volumes and values was a result of consumers purchasing more fuel in case the threat of a fuel strike in the latter part of the month came to reality.
"However, there was also feedback from retailers in this sector that smaller stores lost out on trade when they were forced to close after the rush to buy fuel forced them to close and could not re-open until they restocked."
Sterling rose to $1.6115 against the US dollar, a five-month high, immediately following the figures. Ten-year Gilt yields rose around 3 basis points to trade at 2.18 percent. A basis point is 0.01 percent.
Caxton FX analyst Richard Driver said the figures are "staggeringly good".
"The premature warm weather will be responsible to a large degree as it will have triggered clothing and gardening purchases," Driver said.
"The retail sales figure should put fears of a return to technical recession more or less to bed."
There had been fears that the UK economy would return to recession after the ONS revised down its growth figures for the final quarter of 2011 to a 0.3 percent contraction, from an original estimate of 0.2 percent.
Since then strong PMI data for the construction, manufacturing, and service sectors show that there is life in the economy, with output increasing across the board.
The British Retail Consortium was cautious over the strong March retail sales figures.
"To get a true picture of March's retail performance we have to disregard the exceptional circumstances that boosted fuel sales," Stephen Robertson, BRC director general, said.
"The ONS figures, without fuel, back our own findings that sales revived in March but mainly because summer weather arrived early, lifting sales of clothes and garden products in particular.
"But, just as the sunshine has now faded, the boost to business is likely to be short-lived."
Inflation is forecast by the Bank of England to fall below the government's 2 percent target by the end of the year, but rose in March by 0.1 percent to 3.5 percent - ending five consecutive months of decline.
This has cast doubt over the Bank's forecasts and unsettled retailers who had hoped that declining inflation would ease the squeeze on consumers and get people spending more on the high street.
However strong retail sales figures will ease fears over the state of the UK's retail market.