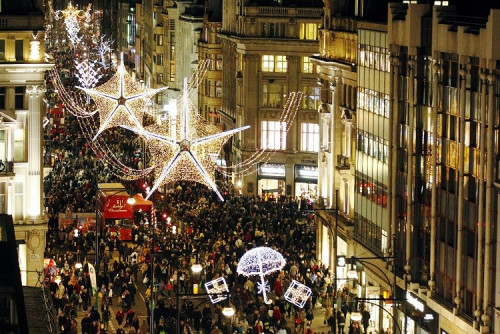 UK retail sales were broadly flat in November as consumers held back on spending ahead of the Christmas shopping rush in December.
Office for National Statistics (ONS) figures show UK retail sales rose by just 0.3% in volume terms on the month. Quarter-on-quarter there was zero growth. Across the year however, retail sales volumes were 2% higher.
British retailers have been hit hard as consumers suffer a real-terms decline in their incomes, amid a rising cost of living, slow wage growth, and cuts to the government's welfare spending.
"The underlying pattern in the data as suggested by the three month on three month movement remains flat due to a contraction in the quantity bought in food stores and petrol stations offsetting growth in non-food stores and non-store retailing," said the ONS.
The ONS also said that in the November 2013 four week reporting period, the amount spent in the retail industry was £30.2bn, up from the previous month's £27.8bn. It means an average weekly spend of £7.6bn in November, against £6.9bn in October.
Ian Geddes, UK head of retail at Deloitte, said the small rise in sales was a surprise positive from the retail sector.
"The industry will be hoping for an even stronger performance in December, boosted by key dates in the shopping calendar including Black Friday, Cyber Monday and the traditional Boxing Day sales," he said.
"However, while the volume of sales is expected to remain high, many of these will be driven by promotions and discounts which will impact profit margins."
There are signs that retailers are in for a bumper Christmas in 2013. A retail sector survey by the Confederation of British Industry (CBI) found that 48% of firms reported higher sales in December than the year before, against just 14% saying there was a fall.
"After a disappointing couple of months, sales volumes in December recovered their sparkle, beating retailers' expectations," said Barry Williams, Asda chief merchandising officer for food, and chair of the CBI Distributive Trades Survey Panel.
"Customers have clearly held off spending through the Autumn and we're only now seeing them start to hit the stores. Retailers are now gearing up for the crucial pre-Christmas week and are optimistic for the New Year."
Research by Deloitte predict retail sales for the festive period will be 3.5% higher in 2013 than the year before, at £40.3bn.