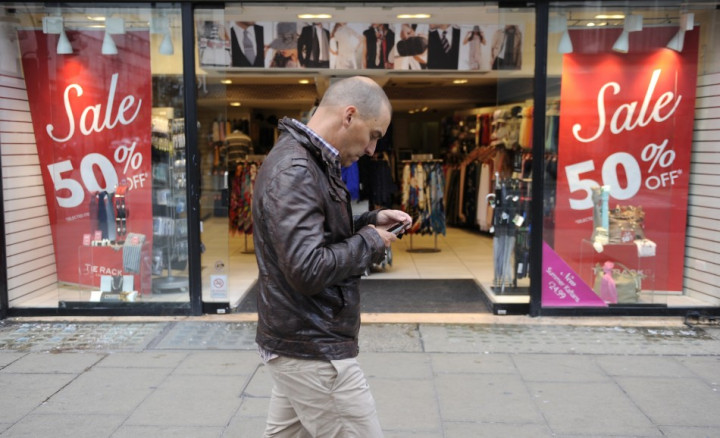 After a dismal 12 months for the retail sector, Britain's high streets have got off to an inauspicious start to a New Year that is meant to bring a slow recovery for the sickly economy.
Consumers have been hard hit by domestic recession, global economic slowdown, job fears, sticky inflation, and stagnant wages. In turn desperate retailers have seen their stores empty and resorted to heavy discounting the the hope of luring people in.
Those retailers who are entering 2013 with a spring in their step have been given the bounce by a burgeoning online marketplace, which has seen steady expansion in recent years.
Marks & Spencer, the famous up-market retailer on high streets across the country, watched its share price nosedive as it reported a disappointing like-for-like sales drop of 1.8 percent across both its food and general merchandise divisions for the 13 weeks to December 29.
M&S, which is run by former Morrisons and Heineken executive Marc Bolland, warned about the year ahead given the state of the domestic economy.
"We expect the pressure on consumers' disposable incomes to continue in 2013," M&S said.
"We remain cautious about the outlook for the year ahead."
Jessops, the digital camera store which has a turnover of £236m, has fallen into administration as it struggles to compete against the technological advance of smartphone cameras.
Store closures are inevitable, said administrator PwC, and 2,000 jobs are under threat after "irreconcilable differences" between Jessops directors, funders and suppliers in discussions to secure the company's financial future.
"Our most pressing task is to review the company's financial position and hold discussions with its principal stakeholders to see if the business can be preserved," said Rob Hunt, joint administrator and partner at PwC.
Supermarket giant Morrisons has been left behind by its rivals which have made great strides in their online offerings and now have well established internet divisions.
Over Christmas, Morrisons' like-for-like sales dropped 2.5 percent compared to the year before.
"It has found itself squeezed in a market characterised by falling customer loyalty and low volume growth," said Joseph Robinson, lead consultant at retail analyst Conlumino.
"With the volume of promotional activity intensifying, the grocer has been unable to deliver a strong enough value message."
Robinson added that Morrisons had been "excruciatingly slow" in adapting to the shifting consumer shopping habits of using convenience stores and the internet.
"The grocer is finally making some strides in these areas, with plans to open more convenience stores and a rising likelihood that it will finally launch a full-scale online offer in 2013," he said.
"However, these developments have been slow, and Morrisons is playing catch-up with rivals which are significantly more established in these areas."
Weak performance
JD Sports, the sportswear clothing retailer, failed to capitalise on the demise of rival JJB, which went into administration in the closing months of 2012.
Like-for-like sales in its core JD Sports stores were up 3.2 percent, though the same measure of its smaller fashion business, which owns the Bank and Scotts chains plunged by 7.9 percent.
Weak performance at JD's outdoor shops Blacks - which it bought out of administration - and Millets caused it to warn that the group's annual profits would fall below expectations.
Greggs, the largest bakery chain in the UK, reported a 2.7 percent drop in like-for-like sales in the five weeks to January 5.
The company is going through a significant investment programme as it seeks to drive up sales. In 2012 it opened 121 new stores and expanded its reach into supermarkets by selling frozen products in Iceland.
"Overall, against the backdrop of weak consumer spend, and unprecedented wet weather, reducing footfall 2012, Greggs has experienced a challenging 2013, against tough comparatives," Conlumino's Robinson said.
"However, its pipeline of store investment and innovations leave it well placed to gain traction among both new audiences beyond the high street, and as the retail sector at large recovers."
Greggs, which employs 20,000 people, lost its campaigning chief executive Ken McMeikan in December when he left to head up catering firm Brakes Group.
McMeikan spearheaded the anti-pasty tax campaign against the government who u-turned from their proposal to put a levy on the pastry-based snack.
Online shopping saves Christmas

Some retailers are bucking the downward trend in the retail market, and they all have something in common - a competent online offering for internet shoppers.
Research by the British Retail Consortium showed that in December online sales in the sector were up by 17.8 percent on the year before.
"This is by far the strongest online sales showing this year and marks a real return to form after momentum dipped in the previous few months," said Helen Dickinson, director general of the BRC.
"Online retail still accounts for a relatively small part of total sales, but in December it played a disproportionately larger role in driving non-food sales.
"Many valued the ease and convenience of shopping online during the Christmas period. The surging popularity of tablets and smartphones giving even better access is a major factor.
"Shoppers took advantage of the investment many retailers have made in making their websites easier to use across multiple devices, in flexibility of delivery options as click-and-collect came of age and in security - they now feel much more comfortable putting their credit card numbers into their mobile phones."
Clothing retailer Next posted just 0.8 percent growth in its store sales in its Christmas trading update. However, Next Directory, its online business, watched sales soar by 11.2 percent, helping to maintain the company's robust profitability.
Sainbury's, the supermarket, posted total sales growth of 3.3 percent in the 14 weeks to January 5, boosted by 15 percent growth in its online sales over the period.
It is still relatively young in the online retail market and has room to grow sales further as more shoppers opt for sofas rather than stores.
Tesco, Britain's biggest supermarket, posted like-for-like sales growth of 1.7 percent, excluding petrol, in the UK.
Underpinning this was an 18 percent advance in its online sales and its new Click & Collect service, where customers order their shopping online and pick it up from a booth in a Tesco store's car park, now represents 5 percent of its online grocery sales.
The best internet shopping performance came from department store Debenhams, which had a 39 percent increase in its online sales in the 18 weeks to January 5, pushing like-for-likes up 2.9 percent overall.
As the year progresses and the shift to online shopping is likely to gather pace, retailers lacking in this area will feel the pressure to devise a web strategy quickly else risk intensifying the struggle they already face in a moribund economy.