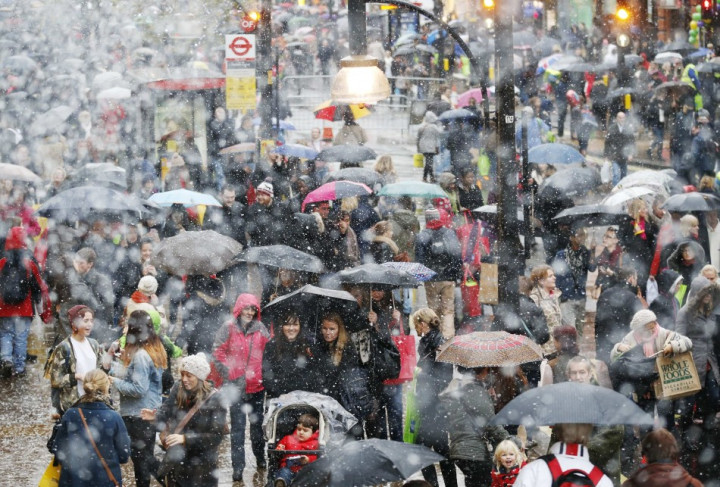 Some retailers were hit by the March snowfall as winter's icy grip held Britain for longer than usual, though overall like-for-like sales still lifted by 1.9 percent on the same month a year before.
The British Retail Consortium (BRC), which compiles a monthly retail report alongside professional services firm KPMG, said early Easter which fell in March boosted sales on the high street as did Mother's Day, though bitter winter weather hurt fashion sales in particular.
"Snow and the prolonged cold are not ideal, but not a disaster," said Helen Dickinson, director general of the BRC.
"They brought mixed fortunes for different categories. Food was boosted by a continued appetite for heart meals and 'wintry' fare such as roasts and chocolate, but demand was cool for new season clothing and footwear lines, resulting in a decline for both categories."
Online non-food sales grew at their slowest rate since August when consumers were distracted by the London 2012 Olympic Games. They rose 6.6 percent on March the year before and well below the six month average of 10.2 percent.
"Increasingly, retail searches that customers start online finish with them buying in stores. This 'omni-channel' approach could be one reason behind the narrowing gap," said Dickinson, adding that this slowing growth looks to be short-lived.
The relatively robust growth for retail sales despite the cold weather is yet another indicator that the country did not slip into a third recession during the first three months of the year.
There were fears that, as the country's economy hung in the balance between growth and contraction during the first quarter, snowfall would be enough to tip it into negative territory.
Most economists predict 0.1 percent growth in the first quarter, following a 0.3 percent decline in the final three months of 2012.
Private firms in the UK's service sector, which represents around three quarters of the economy, reported better-than-expected growth in March, negating a decline in manufacturing and construction.
Retailers have suffered in particular in recent months as consumers' incomes are squeezed by a high cost of living and below-inflation wage growth.
---
Follow @shanecroucher