Our television viewing habits are returning to how they were in the 1950s as families watch more TV together but our attention is split between multiple screens more than ever.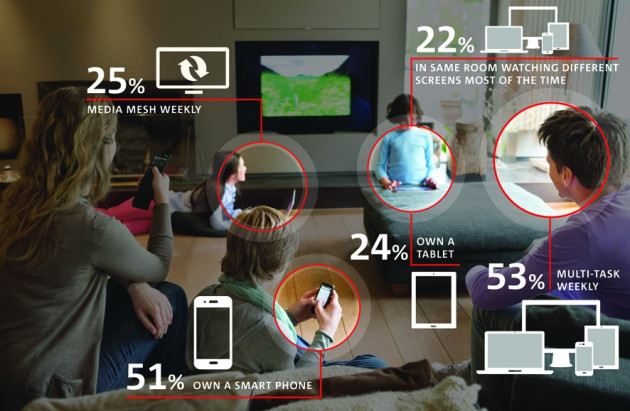 In its report published on Thursday, the telecom and media regulator Ofcom said the rising popularity of smartphones and tablets is bringing family members out of their own bedrooms and back into the living-rooms, even though they might all be engaged in different activities.
Mobile devices have made multitasking in front of the TV more common than ever, with 53% of over-16s saying they interact with other media while watching TV, while 25% connect with others through social media and text messaging to talk about what they're watching.
Women are more likely to multi-task between media, such as tweeting on an iPad while watching television, than men (56% compared with 51%).
Gathering int he living-room
By watching media on tablets, smartphones and laptops, the number of households with more than one television has fallen from 65% in 2002 to 59% in 2012.
James Thickett, Ofcom's director of research, said: "Our research shows that increasingly families are gathering in the living-room to watch TV just as they were in the 1950s - but now delivered on bigger, wider and more sophisticated sets. Unlike the 1950s, however, they are also doing their own thing. They are tweeting about a TV show, surfing the net or watching different content altogether on a tablet."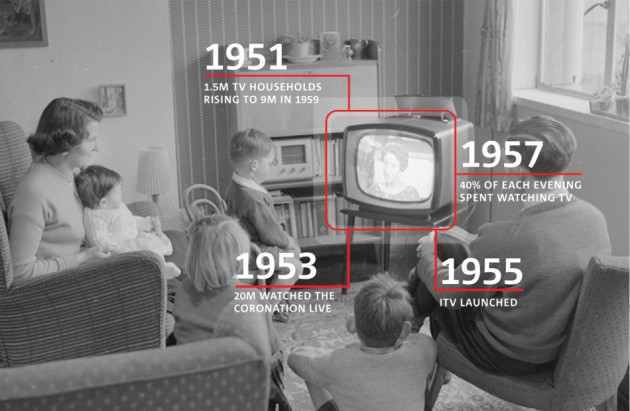 Tablets like the Apple iPad and Google Nexus 7 are increasingly replacing a family's second and third televisions, as uptake of the devices among UK households has more than doubled in the last year from 11% to 24%.
Two-thirds of tablet users say they use the device on a daily basis and 95% use it at least once a week, but an overwhelming majority of 85% keep their tablet at home and half say they couldn't live without it.
Second screen
As the 'second screen' concept becomes more popular, 56% of tablet-owners use them to watch video and a fifth watch different content on different screens while in the same room all or most of the time.
The tablet has also replaced the bedroom television, as 60% of owners watch content on their tablet while in bed; 11% use their tablet in the bathroom, rising to 20% for 18-24 year olds.
Almost all (91%) of parents with a tablet said they let their children use it, or have bought them their own, and of these children 41% use the tablet every day.
Although our use of tablets, smartphones and internet-connected TVs has risen, the average monthly household cost for communications services has fallen from £122.42 in 2007 to £113.51 in 2012, representing an annual savings of more than £100.